As many as 16 million motorists are set to take to the roads over Easter, with four million travelling on Good Friday and 4.5 million on Easter Sunday. The expected annual congestion over the bank holiday weekend will be worsened by disruption to public transport, forcing more drivers onto the roads.
The worst-affected areas of road congestion are expected to be twice as busy as last Easter, with hotspots in south-east and south-west England, according to the traffic information company Inrix. More than 550 miles of roadworks will be lifted over the weekend on motorways and major A-roads, but the Highways Agency has warned that 69 locations will still have lane restrictions and speed limits, lengthening journey times.
Inrix traffic analyst Greg Hallsworth said: "On the one hand, increased traffic on the roads, railways and public transport signifies good news for the economy, with more people travelling and increasing numbers of goods being moved across the country.
"For those planning an Easter weekend getaway, our advice is to check before you travel. With rail closures, diversions and huge numbers of vehicles on the roads, many routes will be busier than usual."
Particularly busy roads include the M25, on which a normal 30-minute journey around the western section could take up to two hours. Other busy roads include sections of the M1, the M6 through the West Midlands and the A303 westbound through Hampshire, Wiltshire and Somerset.
Weather
The Met Office has warned rain and gales will bring disruption in the week leading up to the Easter holidays, with some snow and ice in northern regions.
"The next few days and going to be windy throughout the UK. We have a band of heavy rain moving in from Wales and the South West and moving across England," Met Office forecaster Nicola Willis said. "We are expecting quite windy, breezy conditions."
From Wednesday onwards, showers will affect south-west and eastern England and Wales, although the wind is set to die down. The weather from Good Friday onwards is set to remain unpredictable. Although the weather will improve with the rain and wind easing, it will still be cloudy.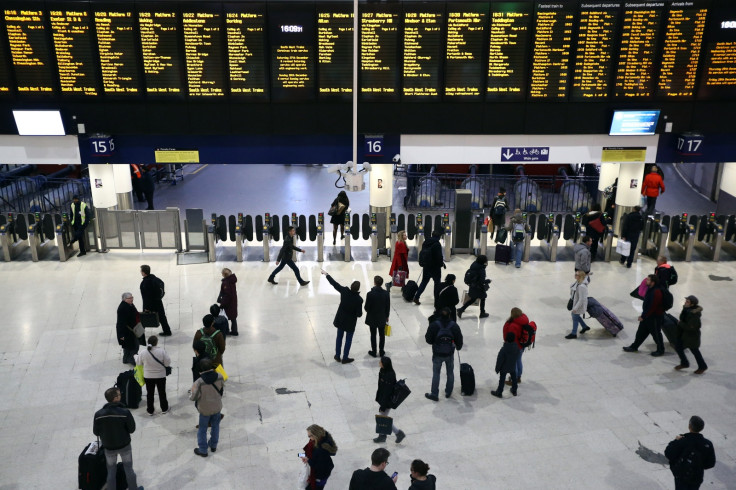 Train travel
Engineering works and the sheer volume of traffic are forecast to add to the disruption on the railways and roads respectively over Easter.
One of the most-disrupted routes is the London to Scotland West Coast main line. Major work at Watford in Hertfordshire means that there will be no Virgin or London Midland trains running in and out of London's Euston station between Good Friday and Easter Monday. Virgin is strongly recommending that passengers do not travel between Good Friday and Easter Monday.
Various train companies have planned engineering works to take place over the Easter period, from Friday 3 April to Monday 6 April. Major engineering projects will be taking place between London Euston and Watford Junction, London Paddington to Hayes and Harlington and Didcot Parkway, as well as to Reading station.
There will also be major changes to Southeastern services and to the route from London Liverpool Street to Shenfield through to Colchester and Southend Victoria. One of the most disrupted routes is the London to Scotland West Coast mainline. To check whether your route will experience disruption, you can use the National Rail Enquiries Journey Planner.
Most services in London will operate as normal over the Easter weekend, but Transport for London have warned some improvement works will take place on the Underground and rail routes, as well as on roads – which may affect bus routes. Closures include sections of the Jubilee and Metropolitan lines, the London Overground and the DLR.