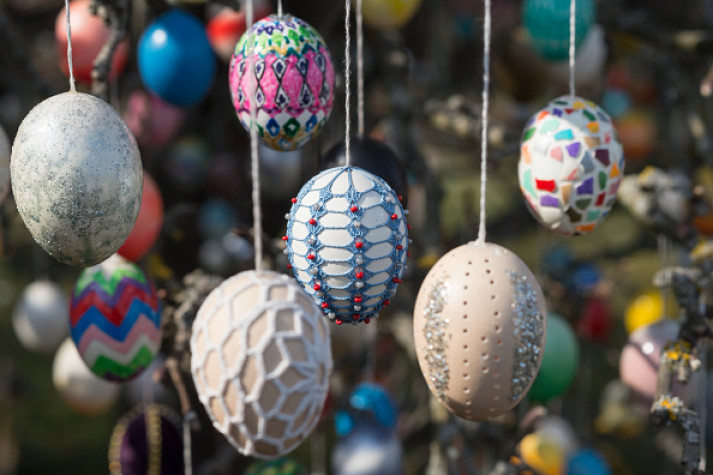 Easter Sunday or resurrection Sunday will be celebrated by Christians around the world on 25 March. The day marks the resurrection of Jesus Christ on the third day after his crucifixion. According to the New Testament, Jesus came back to life on Sunday, the third day after his death on the cross, the Friday before Easter.
Hence, Good Friday is the saddest day for Christians but Easter marks a happy day that celebrates life. The festival also marks the celebration of the spring equinox. For pagan traditions, it's a day of feast and a symbol of fertility. Many people commemorate the day by decorating coloured eggs that represent the sunlight of spring. The festival is now synonymous with Easter egg hunts, bunnies and baskets and candy.
To celebrate the special day, IB Times UK has compiled a list of top quotes and messages to share with friends and families.
Top 10 quotes:
1. "Life is a precious gift, but we realise this only when we give it to others." —Pope Francis
2. "There is only one secure foundation: a genuine, deep relationship with Jesus Christ, which will carry you through any and all turmoil. No matter what storms are raging all around, you'll stand firm if you stand on His love." —Charles Stanley
3. "What makes you a Christian is whether or not you really are in accord with biblical theology and whether you know Jesus Christ as your Saviour." —Walter Martin
4. "Easter is meant to be a symbol of hope, renewal, and new life." —Janine di Giovanni
5. "There would be no Christmas if there was no Easter." —Gordon B. Hinckley
6. "Here is the amazing thing about Easter; the Resurrection Sunday for Christians is this, that Christ in the dying moments on the cross gives us the greatest illustration of forgiveness possible." —T D Jakes
7. "The joyful news that He is risen does not change the contemporary world. Still before us lie work, discipline, sacrifice. But the fact of Easter gives us the spiritual power to do the work, accept the discipline, and make the sacrifice." — Henry Knox Sherrill

8. "Easter is the demonstration of God that life is essentially spiritual and timeless." —Charles M Crowe
9. "Let every man and woman count himself immortal. Let him catch the revelation of Jesus in his resurrection. Let him say not merely, "Christ is risen," but "I shall rise." — Phillips Brooks

10. "Easter spells out beauty, the rare beauty of new life." —S D Gordon
Top 5 messages:

1. He showed us the way. He has long been gone. Yet, in our hearts, His name shines on. Wish you a blessed and Holy Friday.

2. When I'm lifted up, I shall draw all men to myself. His assurance has risen us in EASTER to salvation, love, peace, joy, hope & breakthrough in our life in Jesus resurrection .
3. The budding trees, the new flowers,
and birds that sweetly sing,
whisper to me that it's Easter.
Here is wishing a warmth for your soul
on Easter and always! Happy Easter
4. May the angels protect u...
may the sadness forget u...
may goodness surround u...
and may Allah always bless u...
Happy Easter!!!
5. Wishing U a Very "HAPPY EASTER"
Wid Luv And Best Wishes..
May That EASTER Day Brings
LOT of Happiness And JOYS in ur LIFE.
May u Live Long LIFE...
And That EASTER day Will comes in UR life Hundred Times...
Remember me in ur prayers..