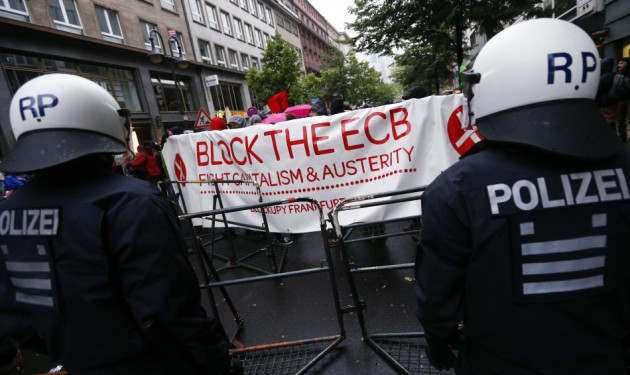 The European Central Bank will face a German court over the next two days following allegations that its bond buying programme is an illegal scheme that bails out eurozone members via the 'backdoor'.
ECB Board member Joerg Asmussen and Bundesbank chief Jens Weidmann will argue on opposite sides in Constitutional Court over the legality of the programme, which is widely recognised for restoring calm and stability, in the wake of the sovereign debt crisis.
In 2012, the ECB launched the Outright Monetary Transactions scheme (OMT), in order to purchase distressed debt from governments, which are struggling to cope and therefore threatens the stability of the single currency.
ECB President Mario Draghi has hailed the scheme as "probably the most successful monetary policy measure undertaken in recent time."
The programme has worked largely by giving investors the confidence to buy bonds issued by troubled countries after the ECB said it would intervene should any government find themselves at serious risk of defaulting.
The ECB has yet to buy a single bond but more than 35,000 Germans have brought a complaint against the OMT, after becoming weary of forking out the largest Eurozone member slice of taxpayer money for bumper bailouts.
While a final ruling is not expected until after a German parliamentary election in September this year, the court cannot technically order the ECB to revoke its bond-buying programme.
However, judges could signal whether the case falls under their jurisdiction and whether they think the programme violates the German parliament's sovereign right to control the budget.
It could also challenge certain aspects of the programme, such as its "unlimited" nature of cash reserves.