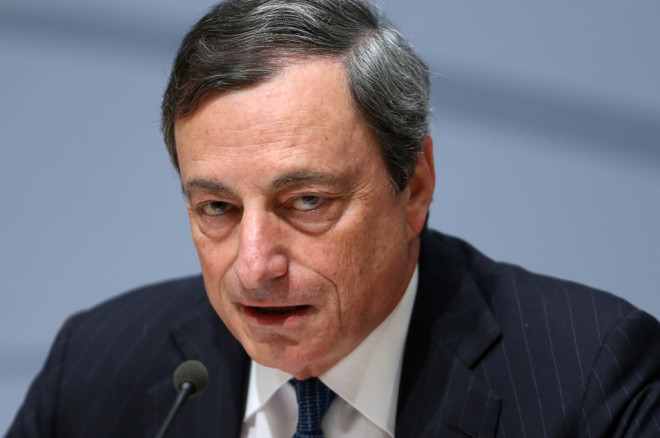 European Central Bank President Mario Draghi has indicated that policy makers are ready to act in June should they see low eurozone inflation becoming ingrained.
Draghi said the ECB expects that "low inflation will be prolonged but gradually return to [its target of below, but close to] 2%".
Dragi, speaking at the new ECB annual conference in Sintra, Portugal, also said credit constraints were "putting a brake on the recovery in stressed countries" and that "the effect of an appreciating [euro] exchange rate [will] hold down overall [Eurozone] inflation."
"Our responsibility is nonetheless to be alert to the risks to this scenario that might emerge and prepared for action if they do," Draghi said in his introductory remarks.
"What we need to be particularly watchful for at the moment is, in my view, the potential for a negative spiral to take hold between low inflation, falling inflation expectations and credit, in particular in stressed countries," he added.
Danske Bank said in a note to clients: "We believe the ECB will lower its inflation forecast. This is partly a result of the strengthening of the exchange rate, which is also seen as an unwarranted tightening of the policy stance.
"Moreover, bank lending has still not improved, which is not in line with the assumptions behind the ECB's growth forecast. In light of this, it is not straightforward to conclude what instrument the ECB will use if it decides to ease."
The European Commission (EC) said in May that inflation in the eurozone will drop more than expected in 2014 and 2015, mounting pressure on the ECB to do more to shield the region's weak economic recovery.
The EC said eurozone inflation will likely average 0.8% in 2014 and 1.2% in 2015, lower than a February forecast of 1% and 1.3% respectively.