Ecuador's leftist candidate and former vice-president Lenin Moreno claimed victory in the presidential run-off election with a narrow lead, but opposition candidate and rival Guillermo Lasso demanded a recount as his supporters took to the streets in protest.
Lasso alleged electoral fraud and said his campaign had evidence of an attempt to rig the election result. According to AFP, both candidates declared victory after conflicting exit poll results came out.
Moreno had 51.07% of the vote as compared to Lasso's 48.93% with 94.2% of district votes counted, National Electoral Council said.
Final election results have not yet been declared.
"We are going to defend the will of the Ecuadoran people in the face of an attempted fraud that aims to install what would be an illegitimate government," Lasso told his supporters at a hotel in his hometown of Guayaquil.
"They've crossed a line," he added.
According to a Reuters report, hundreds of Lasso supporters protested in front of electoral council offices in the capital, Quito, and Guayaquil and chanted "No to fraud!" and "We don't want to be Venezuela!"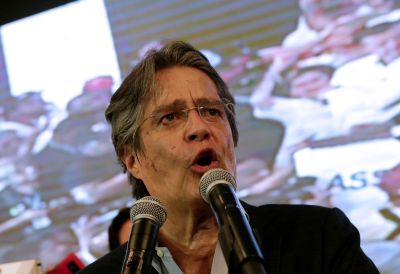 Moreno, who became a paraplegic after a carjacking incident in 1998, could be one of the few world leaders who is differently abled and could continue the reign of a left-wing government in the country started by the Rafael Correa in 2007, if he wins.
A win for Moreno could mean good news for Wikileaks founder Julian Assange as Lasso had vowed to remove Assange from the Ecuadorian Embassy in London if he won.
Left-wing leaders including Bolivia's President Evo Morales and Venezuela's President Nicolas Maduro have congratulated Moreno.