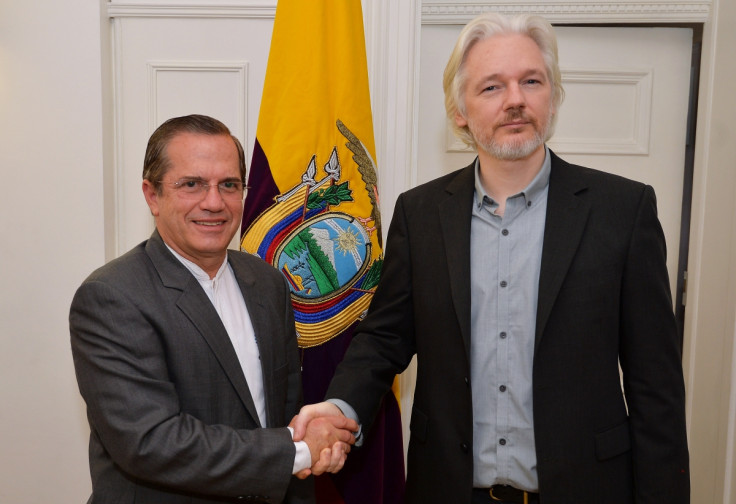 Ecuadorian President Rafael Correa has sought compensation for holding WikiLeaks founder Julian Assange for more than three years in its embassy in London. The south American leader's comments have come in the wake of a UN panel's imminent ruling on Assange's detention.
With the UN expert panel widely expected to rule in favour of the 44-year-old Australian, Correa told reporters: "That shows we were right, after so many years."
The UN's Working Group on Arbitrary Detention is set to decide whether Assange, who has been holed up in the Ecuadorian embassy since July 2012, is a victim of arbitrary detention. The finding is to be released today (5 February).
"But who is going to compensate the harm that has been done to Julian Assange and to Ecuador? Do you know how much it costs to maintain security at the embassy?" asked the Ecuadorian leader. "We experienced spying attempts and lots of other things."
Despite the UN working group's verdict — which is not legally binding — British authorities have made it clear they would arrest Assange if he steps out of the diplomatic mission. Ecuador's Foreign Minister Ricardo Patino confirmed Assange is free to continue his stay at the embassy. He said: "The basis on which we granted him asylum remains in place." Assange is wanted for questioning in Sweden over rape charges, which he contests.
In a lengthy political drama that was played out globally, Assange entered the Ecuadorian embassy to avoid being arrested by the British police. He does not want to step on Swedish soil, Assange argues, as authorities would eventually extradite him to the US, where he faces serious charges.