Great Britain's Ed McKeever, Jess Walker and the men's kayak double have all qualified for the Saturday's Olympic canoe sprint finals after a series of solid showings at Eton Dorney.
McKeever, who qualified first from the first round of the K1 200m, repeated the feat in his semi-final as he strolled to victory in 35.619 seconds.
The former world champion goes into the K1 event as the favourite for gold, possessing a reputation as the Usain Bolt of canoe sprinting.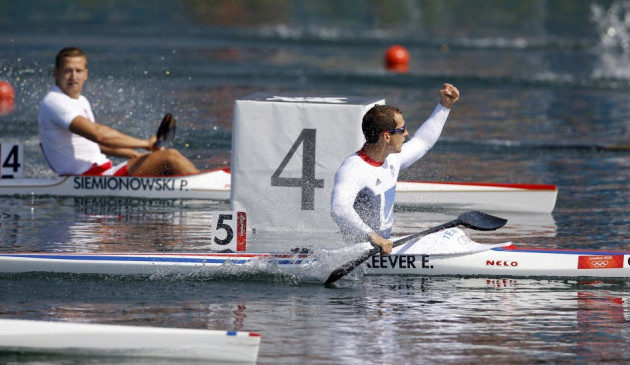 "It has been good," McKeever said, after assuring himself of a place in the final. "I have been on a good training camp, and I am looking forward to the final tomorrow.
"It has been really frustrating watching everyone else from Great Britain going out there and winning medals. Hopefully, I will have more to come."
Walker appeared up against it after finishing fourth in her first heat, but produced a time of 41.734 seconds to finish second behind Russia Natalia Lobova to book her spot in the final.
"I knew I had the easier semi-final so I knew that I wanted to finish in the top two," said Walker. "When I crossed the line I thought I was third, I thought that Japan had just beaten me, but when I found out I was second I was like 'thank you, thank you!'"
"I was so nervous this morning that I felt sick! I would be happy with anything in the final tomorrow as long as I race the best race I can."
"I've had a rubbish year and going off my results you wouldn't put me down as a finalist, so I'm happy and it doesn't hurt as much as normal either," she added.
The third British boat into Saturday's finals is the men's doubles of Liam Heath and Jon Schofield, who finished second in their semi-final, again trailing to their Russian counterparts, Yury Postrigay and Alexander Dyachenko, to set up a mammoth race for gold.
"The Russians are definitely one of the main crews to beat and they showed that they were better than us today," Schofield admitted.
"We've got more in the tank and can't afford to give as much to those guys off the start so we're looking to get out faster."
"We're going to try to put the expectation out of our minds because tomorrow's a race that hasn't happened before. It's a clean slate and we just want to do our fastest race."
However, Richard Jefferies endured contrasting fortunes in his semi-final, crashing out after finishing sixth in the C1 200m event.
The 25 year old is highly tipped to make an impression in Rio 2016, but was nonetheless disappointed to miss out on a medal.
"The heat was really good and I felt really strong, so I do not know what happened in the semi," Jefferies conceded.
"It has been a crazy journey, and an amazing experience, but I was disappointed I did not put my best performance down."