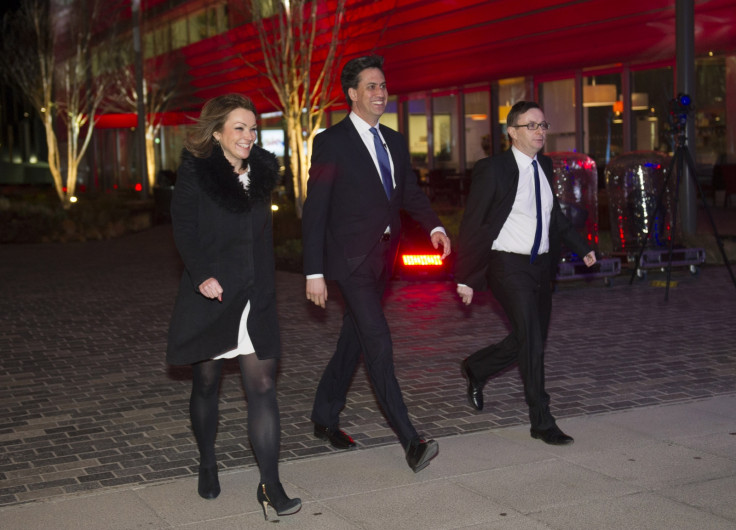 Labour have played down an alleged attack on Ed Miliband as "campaign rough and tumble" after witnesses claimed the Labour leader was "punched and shoved" ahead of his TV showdown with David Cameron last night.
Miliband was reportedly ambushed by protesters as he left a pre-general election debate in Southwark. Witnesses told The Mirror that six protestors, some wearing Alex Salmond masks, surrounded Miliband. Rachel Penn, a Labour activist, alleged that one of the protestors "punched Miliband in the chest".
"He was pretty shaken up. It was quite dramatic. His path was blocked by two people who were being very aggressive. He was shoved out of the way and couldn't get in the car. One guy punched Ed in the chest and shut the car door so he couldn't get in," Penn said.
Neil McEwan, another onlooker and Labour supporter, claimed Miliband was "set upon...immediately".
"He was definitely pushed but he shrugged it off and made his way to the far side of the car," he said.
But a Labour source told IBTimes UK that the incident was "just a bit of campaign rough and tumble" and Miliband "shrugged it off". The Metropolitan Police told IBTimes UK that the force had not received any reports related to the incident.
The alleged assault came just hours before Miliband's grilling on Channel 4 and Sky News by Kay Burley and Jeremy Paxman.
The Prime Minister David Cameron was also interviewed separately in the first of four pre-election debates. The leaders were quizzed on various topics, including immigration, the UK's membership of the European Union (EU) and the NHS.
Cameron narrowly came out on top of event with 54% of viewers saying that he had "won" the contest, against Miliband's 46%, according to an ICM poll for The Guardian.