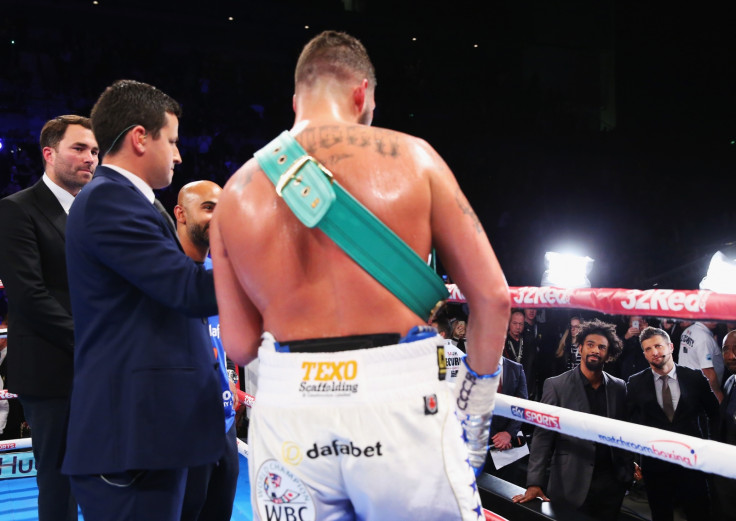 David Haye versus Tony Bellew is in the works for February 2017, according to promoter Eddie Hearn. The Matchroom chief is keen to see the WBC cruiserweight champion fight Haye early next year and has revealed he is hopeful of finalising the much-discussed event in the coming weeks.
Bellew, 33, called out his British rival following his knockout win against Haye's good friend BJ Flores in Liverpool last month. And despite the size disparity between the two men, Hearn has confirmed it is a very real possibility.
"We hope Haye versus Bellew will happen in February," Hearn told IBTimes UK, before speculating Haye will seek to fight for the WBO title recently vacated by Tyson Fury. "I think Haye will fight for the WBO title at some point next year. I think he'll probably fight the winner of Joseph Parker against Andy Ruiz," the promoter shared.
Meanwhile, Hearn is poised to promote his first overseas card in Monaco this weekend and has revealed that Matchroom's progress into overseas territories has been slow because of the recent "boom" in British boxing. The show in the principality features Luis Ortiz versus Malik Scott, as well as Jamie McDonnell against Liberio Solis.
"It's just a natural progression," explained Hearn, who also promotes IBF heavyweight champion Anthony Joshua. "I mean, we looked to do a few shows in the US a while back, but with the boxing boom in the UK, we haven't really felt the need. But I think the US shows will come next year, and obviously we've got Monaco this week, so we're always looking to progress and evolve."
Hearn admitted to having lofty ambitions for 2017, but said there was no guarantee his dream fights will come to fruition. Asked what he hopes to achieve next year, Hearn quipped: "Retire! No, I'm just joking. Kell Brook versus Amir Khan, David Haye versus Tony Bellew, Wladimir Klitschko versus Anthony Joshua ... there's loads we want to make. But I've learned that I can tell you this and then if it doesn't happen I'm branded a letdown, so we'll see."