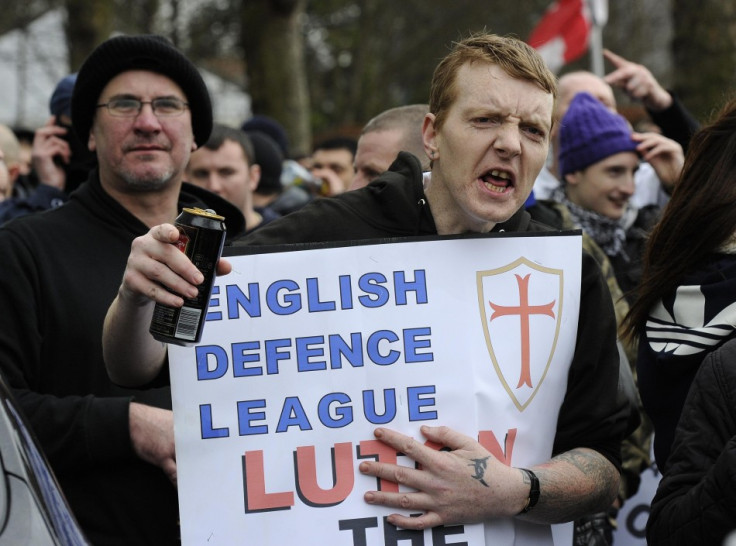 The far-right English Defence League (EDL) plans to put up candidates in local elections, after reaching an agreement to affiliate with the British Freedom Party (BFP), the Independent reports.
Members of the EDL will be invited to stand under the BFP's name, as the two groups seek political office.
The BFP, which has ties with the far-right British National Party, will give the EDL's leader Stephen "Tommy Robinson" Yaxley-Lennon a place on the party's executive committee.
Across Britain the EDL has held demonstrations purporting to be against "militant Islam".
Violent clashes between EDL members, anti-fascists groups and the police often take place.
Some EDL demonstrators have been heard chanting racist slogans, though the group insists it is not racist.
On Remembrance Day 172 EDL members were arrested in Whitehall to "prevent a breach of the police" as Scotland Yard said it received intelligence that the group was going to attack Occupy London protesters.
If EDL members were to stand in local elections, where is it most likely they'll field candidates?
Inner City Tensions
EDL support comes mostly from white working class people.
There's also a connection with football hooliganism, which manifests itself in the football-style chants heard ringing around at its demonstrations.
It's often said they represent a group that feels alienated from mainstream society, outcasts from the political system most hurting from the bite of government austerity, and some living in communities that have changed drastically from years of concentrated mass-immigration into their areas.
As such, the EDL holds a lot of its support in inner city areas and big towns, like Birmingham and Luton, where the group was formed.
It's likely they'd put people up here, assuming they could find willing candidates, to harness the full power of their support.
Indeed if they are serious about getting into office then it would make sense to target areas where they have a significant support base.
The English Defence League Blackburn Division alone has over 2,100 likes on its Facebook page, suggesting this would be an area where they find a significant amount of sympathy.
However if their approach is more about profile-raising than power-grabbing, then they may target areas like that of a recent controversial demonstration in Tower Hamlets, an area highly populated with Muslims.
While this will in their eyes be a symbolic stance against a perceived threat from Islamic extremism in those areas, their chances of grabbing real power would be minute.
One saddening inevitability that works in the EDL's favour is the abysmal turnouts in local elections.
Often as low as 30%, in council wards with notoriously low turnouts - also usually the poorest areas and so likely to harbour more EDL support - if the group manages to mobilise its grassroots support, they may creep in to council chambers.
In any event, wherever the EDL and BFP go, they will be met with a group of dedicated anti-fascists, who tour the country to hold counter-demonstrations to EDL gatherings.
Organisations like Antifa, United Against Fascism and Hope Not Hate will likely convene to campaign against areas with far-right candidates, which could prove a much-needed balance to EDL and BFP election campaigns.
Will it Happen?
All of this, of course, assumes that the EDL and BFP are organised enough to find suitable and willing candidates, happy to put their faces and views in the public eyes and ears.
It's one thing to like a Facebook page, it's another to stand at a hustings event and espouse your dubious views to the press and public.
If you can old your nerve enough to stand, then you also hold yourself up for scrutiny and ridicule.
Another barrier will be keeping good relations between the two groups.
Small political groups and organisations are notorious for factionalism, tearing themselves and their limited memberships to pieces over internal issues.
Among the more moderate EDL members, those who have been caught shouting racist slogans, getting in fights and playing up to the far-right stereotype have been a constant cause of humiliation.
For the others, the moderates are selling out and should be more hard-line in their approach.
There's also a question of if the EDL should involve itself in the political process at all, with some members apparently keen to keep it as a protest movement on the streets of Britain's towns and cities.
By uniting with the BFP, they risk conflicts of opinion and tactics, as well as one side undermining or embarrassing the other.
It's a long road to the local elections. There's no guarantee the EDL's ambitions won't run out of fuel before they reach their destination.