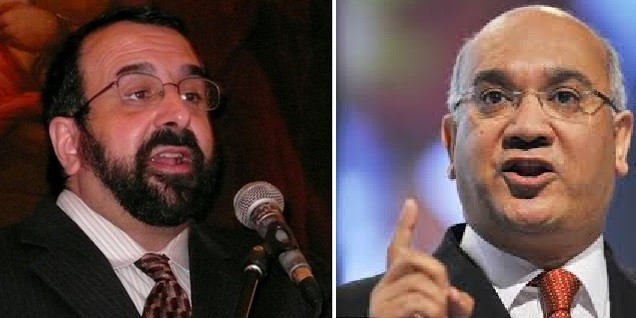 An outspoken anti-Islamic blogger has described one of Britain's top MPs as "mendacious", after he was banned from Britain ahead of a potentially tumultuous EDL march in London.
Robert Spencer, who had been due to speak at the EDL event on 29 June, accused Labour MP Keith Vaz of conducting a "smear campaign."
Speaking from the United States after Theresa May personally intervened to ban him, Spencer told IBTimes UK: "It is a victory for fascism and Islamic supremacism, and for the mendacious smear campaign conducted by Keith Vaz and Hope Not Hate.
"Our work is dedicated to defending the freedom of speech and equality of rights for all. If that is not allowed in the UK, the UK is in bad shape."
Ministers had worried that Spencer's presence would further inflame tensions at the EDL march, which includes a potential flashpoint at the East London Mosque in Whitechapel - previously linked to fundamentalist Islam.
Leicester MP Keith Vaz welcomed the ban. "I welcome the Home Secretary's ban on Pamela Geller and Robert Spencer from entering the country," he said.
"This is the right decision. The UK should never become a stage for inflammatory speakers who promote hate."
Home Secretary Theresa May stepped in on 26 June to stop Spencer and colleague Pamela Geller from crossing the border. Spencer was told by letter he could not enter Britain because his website 'Jihad Watch' espouses 'anti-Muslim hate.'
The Home Office wrote to the preachers: 'The Home Secretary considers that should you be allowed to enter the UK you would continue to espouse such views [...] and would therefore be behaving in a way that is not conducive to the public good.'
The move has been welcomed by all mainstream parties and anti-racism groups.
Vaz used Twitter to speak of his delight at the decision to ban Spencer, telling followers it was "welcome" news. Meanwhile Hope Not Hate told IBTimes UK Spencer and Geller were a danger to Britain.
Spokesman Rob Ferguson said: "All communities need to take a stand against them and the EDL.
"We are really pleased that Geller and Spencer, who are two of the leading Islampohobic and racist commentators in the United States, will not be coming to the UK."