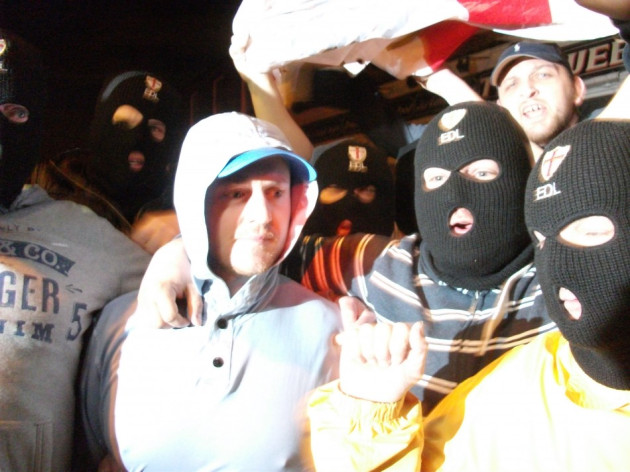 Far-right rage hit Woolwich as the English Defence League (EDL) rioted in the wake of the brutal slaying of a British soldier by suspected Islamists.
Up to 100 supporters of the anti-Islam group clashed with police in scenes marked by bottle hurling and drunken chanting on Wednesday night.
Scores of police vans carrying officers in riot gear turned parts of Woolwich into a lock-down zone as the EDL staged a running riot.
They were in town at the call of EDL leader Tommy Robinson. Earlier in the day, he put out a call on Twitter for supporters to gather in the south-east London suburb to protest the shocking murder.
Robinson delivered a furious tirade against "political Islam" outside a pub just off the town centre, during which he was flanked by menacing hooded henchmen and egged on by drunken supporters.
His words came straight after EDL supporters ran amok in the town centre, about half a mile from where Robinson staged his appearance.
Addressing the media scrum outside the Queen's Arms pub in Burrage Grove, Robinson delivered his divisive message.
He said: "We will say it: We're not having it anyone. Everyone's had enough. The issue is political islam which is spreading across our country. How much more do people think British people are going to take? Islam is spreading through our country and guess what, we're offended.
"Our country is offended. Every British person is offended with people shouting 'allah-u-akbar'. Enough's enough."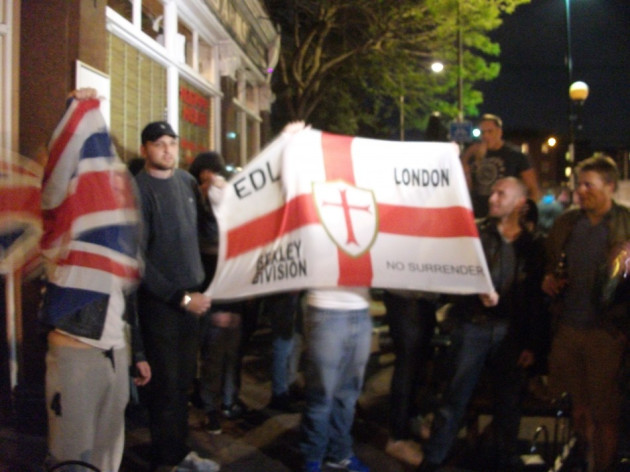 The two killers of the soldier in the street are reported to have yelled allah-u-akbar, meaning God is Great, as they butchered the man - reportedly a father of two.
Police are treating the shocking murder in broad daylight as a terrorist attack.
Marching, chanting mob
The violent retaliatory clashes exploded on the Woolwich streets as darkness fell at around 9.30pm, with a chanting mob marching from the Queen's Arms down Spray Road.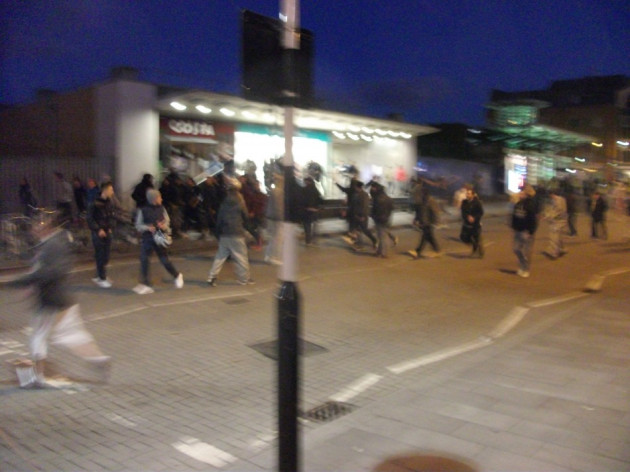 They came into Woolwich town centre next to the DLR station, where a line of riot police officers was waiting.
Bottles were thrown and beer splashed onto the pavement as the EDL turned and ran back the way they had come.
Waiting at the junction of Spray Road and Burrage Road were several police vans - bringing traffic to a standstill.
Officers pushed the EDL mob back from the road and into a small estate of homes, including some sheltered accommodation.
Small groups of protesters split up and fled in different directions. The wail of police sirens filled the night as police and small groups of protesters played cat and mouse in a rabbit warren of back streets.
Then a large group set off a second time from the Queen's Arms Pub to the town centre - where they stayed in force until they felt their point had been made.
A Scotland Yard spokesman told IBTimes UK no arrests were made.