Edward Snowden hopes CitizenFour Oscar win will 'inspire ordinary citizens to change the world'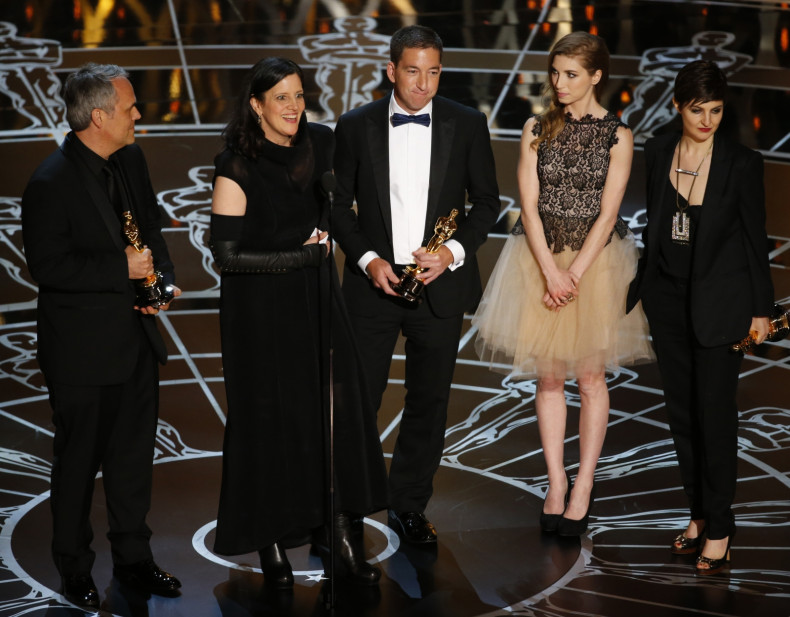 The NSA whistleblower Edward Snowden, who is the subject of the film which won the best documentary at this year's Oscar, hopes that CitizenFour's victory will inspire people to "change the world".
CitizenFour is a documentary directed by Laura Poitras which charts the unprecedented leak of classified information by Snowden in 2013, in conjunction with the director and journalists including Glenn Greenwald.
Following the victory at the Academy Awards in Hollywood on Sunday night, 22 February, Snowden issued the following statement through the American Civil Liberties Union (ACLU):
When Laura Poitras asked me if she could film our encounters, I was extremely reluctant. I'm grateful that I allowed her to persuade me. The result is a brave and brilliant film that deserves the honor and recognition it has received. My hope is that this award will encourage more people to see the film and be inspired by its message that ordinary citizens, working together, can change the world.
Turnaround
It is a remarkable reversal for the filmmaker and journalists who were initially vilified for their part in helping Snowden leak huge troves of sensitive data about how the NSA and GCHQ are spying on people around the world.
The latest leaks were published just last week, on 20 February, when it was revealed that the US and UK spy agencies had breached the security of the world's largest SIM card manufacturer to steal the encryption keys that protect our call and data communications on our smartphones.
The film, which had been hotly tipped to win the best documentary category, charts Poitras and Greenwald as they travelled to Hong Kong in June 2013 to meet a man they knew only as Citizen Four but who would soon be known to the world as Edward Snowden.
Poitras interviewed Snowden numerous times for the film and the director was joined on stage at the Oscars by Snowden's girlfriend Lindsay Mills who also makes an appearance in the film alongside Snowden in what is thought to be his secret base in Russia.
Anthony D. Romero, the executive director of the ACLU, had this reaction: "Laura's remarkable film has helped fuel a global debate on the dangers of mass surveillance and excessive government secrecy. The ACLU could not be more delighted that she has been recognised with an Academy Award."
The ACLU is continuing to petition the US government to grant clemency to Snowden.