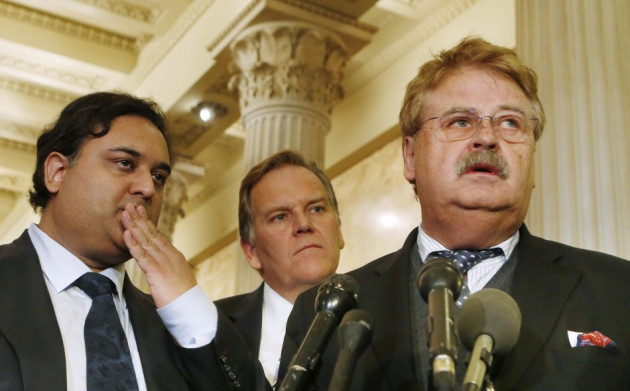 European lawmakers accused the US of using its surveillance programmes to gain an economic-upper hand over other countries with an excuse of fighting against terrorism.
European Union (EU) Commissioner for Justice Viviane Reding told CBS News that the US has probed financial transactions of other countries through the National Security Agency (NSA), using security as an excuse to benefit economically.
"Why are you sucking up information and why are you listening to the phone of a head of state, head of government?" Reding asked.
"Why did you listen to the phones of millions of innocent Europeans? This has nothing to do with fighting terrorism. Maybe it has to do with getting commercial secrets to be sucked out."
Speaking at John Hopkins University's School of Advanced International Studies (SAIS) in Washington, Reding earlier criticised the Obama administration for allegedly spying on German chancellor Angela Merkel and other European leaders.
Reding was the highest ranking EU official visiting Washington since reports of US eavesdropping and spying on European leaders have emerged last week.
She warned that Washington should take action to rebuild trust with Europe, in order to go ahead with the negotiations over the Transatlantic Trade and Investment Partnership (TTIP).
"There are challenges to getting it done and there are issues that will easily derail it. One such issue is data and the protection of personal data," Reding said.
"I warn against bringing data protection to the trade talks #TTIP. Data protection is not red tape or a tariff," Reding said in a tweet.
US-EU Spat over Spying
The NSA's surveillance practices included monitoring of vast volumes of internet traffic and phone records. They have drawn sharp criticism across the globe following revelations by Edward Snowden, a former contractor at the agency who is currently in exile in Russia.
He leaked top-secret documents about the NSA tapping telephone conversations and spying on the internet activity of citizens, leaders, bureaucrats, businesses and government agencies.
Earlier, the German government said it had obtained information that US agencies may have hacked German Chancellor Angela Merkel's mobile phone. An unnamed source reportedly told the Germany-based Bild am Sonntag that US President Barack Obama was aware of NSA snooping on Merkel's activities, putting the US administration in trouble after it had consistently denied claims of snooping on Merkel.
Top US intelligence officials have recently defended the surveillance activities conducted by the NSA, saying spying on foreign leaders has been a "top tenet" for Washington.
In its counter measures, relevant committees of the European Parliament backed proposals to reform data protection rules within the region. To become law, the proposals need to be adopted by the European Parliament and by the Member States in the Council.
The reforms would make any surveillance without court approval a criminal offense.
"Data flows between #EU & US must rely on solid legal foundations. Clear signals will be needed from Washington," Reding tweeted earlier.