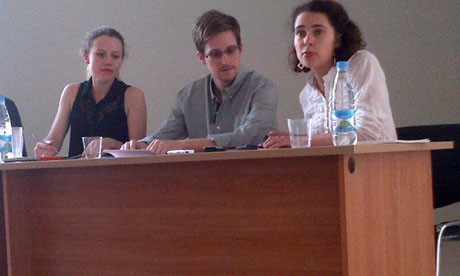 The US has warned Russia over sheltering National Security Agency (NSA) whistleblower Edward Snowden, who remains in international limbo at a Moscow airport, following his request for temporary asylum.
President Barack Obama has discussed the situation with his Russian counterpart, Vladimir Putin, over the telephone but officials have not divulged the specifics of the conversation.
"On the initiative of the American side, the two presidents had a telephone conversation. Putin and Obama exchanged views on bilateral cooperation and security topics. They also discussed the situation around Snowden," said Kremlin spokesperson Dmitry Peskov.
The White House also issued a similar statement, which read: "The two leaders noted the importance of US-Russian bilateral relations and discussed a range of security and bilateral issues, including the status of Mr Edward Snowden and cooperation on counter-terrorism in the lead-up to the Sochi Winter Olympics."
Nevertheless, Washington continues to press ahead with efforts to extradite Snowden to the US to face charges over disclosure of a top-secret surveillance programme codenamed Prism.
White House spokesperson Jay Carney said during a press conference: "Providing a propaganda platform for Mr Snowden runs counter to the Russian government's previous declarations of Russia's neutrality. It's also incompatible with Russian assurances that they do not want Mr Snowden to further damage US interests."
Snowden is presently in the transit area of Moscow's Sheremetyevo Airport, where he has sought refuge for the last three weeks. He has been unable to travel to any of his preferred destinations - Latin American countries - as his travel documents have been revoked.
Meanwhile, after several days of silence, Snowden met representatives from rights groups.
Russian lawmaker Vyacheslav Nikonov, who was present at the meeting, said later: "Mr Snowden said he had officially applied for political asylum in Russia."
Meanwhile, members of the Latin American bloc Mercosur have condemned the US for spying on their territories and defended their right to grant asylum to Snowden.
The trading bloc has Argentina, Brazil, Paraguay and Uruguay as full members while Bolivia, Chile, Colombia, Ecuador and Peru are associate members.
"We emphatically reject the interception of telecommunications and espionage actions in our nations, as they constitute a violation of human rights, of the right of our citizens to privacy and information," Mercosur said in a joint statement.