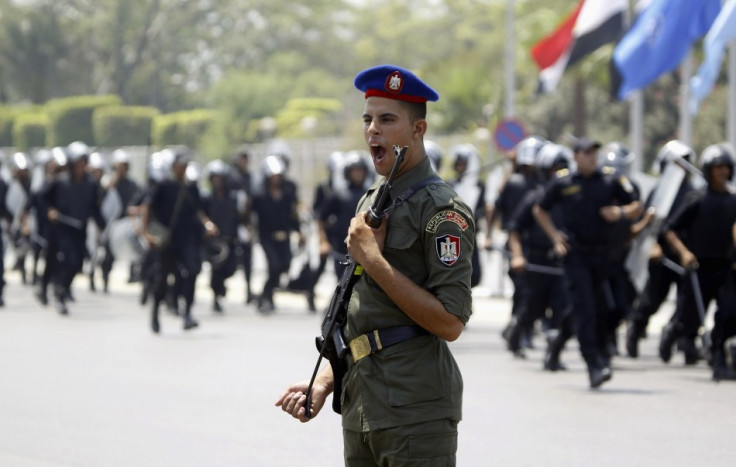 Days after its border was attacked, Egypt has launched an air strike in the Sinai peninsula, killing 20 suspected Islamic militants.
Egypt's military helicopters fired missiles in Toumah village, a few kilometres from the Gaza Strip, while troops stormed the nearby town of Sheikh Zuwaid - confirming the presence of militants.
According to a senior Egyptian military official, quoted by Reuters, the operation has also "destroyed three armoured cars belonging to terrorists."
It is believed this is the first time Egypt has fired missiles in Sinai since the Yom Kippur War with Israel in 1973.
Meanwhile several houses along the Gaza border have been raided by Egyptian security forces, in an attempt to root out further militants.
Response
The campaign has been triggered by a series of recent attacks on checkpoints along the Egypt-Gaza border.
Just a few hours before the air strike, three checkpoints were attacked in el-Arish, the main city in North Sinai. Officials claim six people were wounded in the attacks.
On 5 August a team of gunmen, reportedly affiliated to the Bedouin and Palestinian militant groups, stormed the Rafah border crossing, killing 16 Egyptian soldiers in the process. The gunmen then broke into Israeli, before being killed with missile strikes.
The Israeli government, which urged its Egyptian counterpart for strong action against those responsible for the Rafah attack, has welcomed news of the air strike. Senior defence official Amos Gilad told Israel Radio.
"What we see in Egypt is a strong fury, a determination of the regime and the army to take care of it [the militant threat] and impose order in Sinai, because that is their responsibility.
"This is an Egyptian action that is being handled by the Egyptians on the basis of the information they have. If they don't remove and uproot [the threat], it will continue to strike,"
Decisive confrontation
It is reported that Egypt is now massing troops near Rafah, in preparation for a decisive confrontation with the militants.
A senior Egyptian military official in Sinai, who spoke to Reuters on condition of anonymity, confirmed that further action is likely.
"We have succeeded in entering al-Toumah village, [and have] killed 20 terrorists and destroyed three armoured cars belonging to terrorists. Operations are still ongoing."