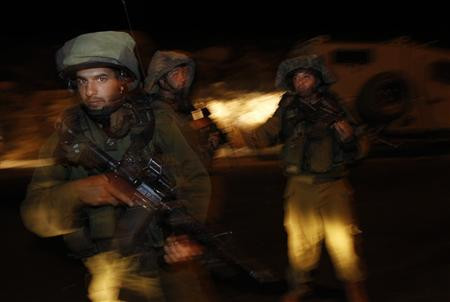 Gunmen allegedly affiliated to a militant Islamist group have killed 16 Egyptian soldiers in an attack on the Egypt-Israel border.
The masked gunmen stormed the Rafah border post, a key point of entry to the sensitive Gaza Strip, before commandeering two armoured vehicles and crossing onto Israel soil.
The invaders, dressed in bedouin attire, soon came under fierce attack from ground and air. According to an Israeli military spokeswoman, one of the vehicles was destroyed by aerial fire, while the other blew up by itself at the Mount Sinai crossing.
All eight of the gunmen are reported to be dead, and both Israeli and Egyptian officials claim the attackers were Jihadists.
Israeli intelligence officers said they had received prior warning about the imminent attack. "We were prepared for it, therefore there was a hit," military spokesperson Brigadier General Yoav Mordechai told army radio
Meanwhile, Egypt has closed the Rafah crossing until further notice, and President Mohammed Mursi has held an emergency meeting with senior army officials after the attack, to discuss possible responses.
"Clear orders have been given to our armed forces and police to chase and arrest those who carried out this assault on our children. The forces will impose full control over these areas of Sinai," Mursi said in his state television address after the meeting.
"This cowardly attack will not go unpunished. Those who carried out the attack will pay heavily. There is no room for appeasing this treason, this aggression and criminality," Mursi added.
Rafah is the only border crossing around the Gaza Strip which is not under Israeli control. Gaza is ruled by the Islamist group Hamas, which has a close relationship with Mursi's Muslim Brotherhood.