Hundreds of Egyptians are feared dead after government security forces backed by armoured cars and bulldozers stormed protest camps in Cairo.
Armed troops moved in to clear camps outside the Rabaa al-Adawiya mosque and in Nahda Square, where supporters of ousted president Mohamed Morsi had been camping for weeks in protest at the military coup which removed him.
Chaotic scenes erupted as demonstrators clashed with security forces.
Sources at the scene suggest troops used tear gas and live ammunition to disperse angry protesters as they moved in, with police helicopters hovering overhead to back up the ground forces.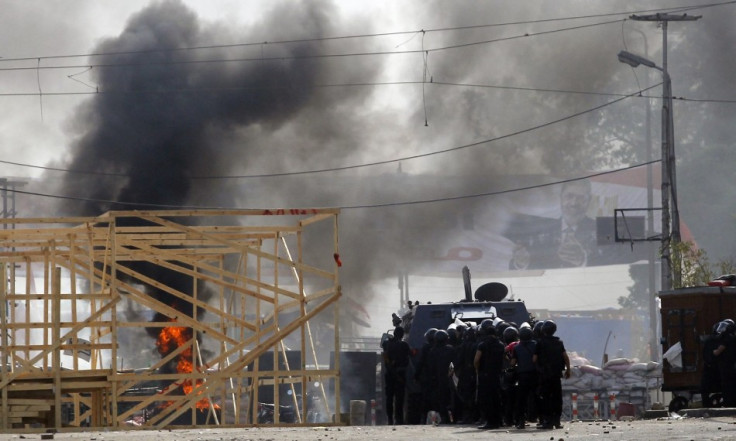 Journalists reporting from the scene said forces were heavily armed and caused a bloodbath.
"There are machine gun rounds and snipers on the roof that are preventing people from getting any closer to the field hospital," reporter Sam Kiley told Sky News.
Kiley said the Rabaa al-Adawiya camp was "under very heavy gunfire" and described the intervention as a "massive military assault on largely unarmed civilians in very large numbers".
Egypt's interior ministry said 10 people were killed, including a security officer, and 67 wounded.
However the Muslim Brotherhood put the death toll at 500, and claimed that more than 8,000 demonstrators were injured. The numbers have not been independently verified.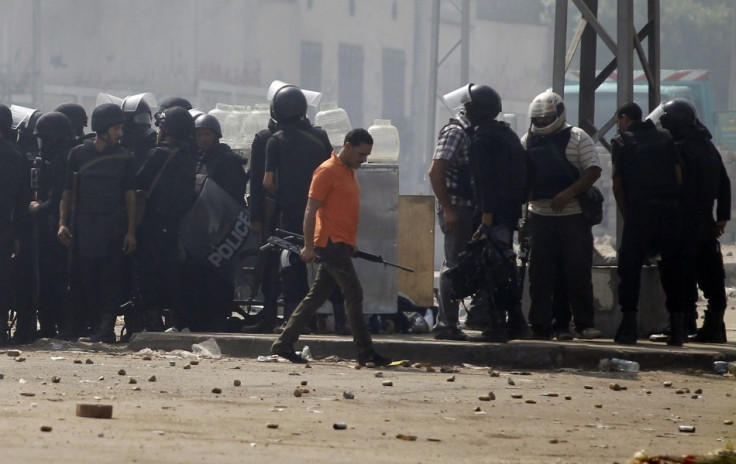 "Tear gas was falling from the sky like rain. There are no ambulances inside. They closed every entrance," protester Khaled Ahmed, 20, a university student, told Reuters.
"There are women and children in there. God help them. This is a siege, a military attack on a civilian protest camp."
One eye-witness, Ahshur Abid, said he saw at least 15 bodies lying beside a field hospital in the opening minutes of the crackdown, while another, Murad Ahmed, told Reuters: "It is nasty inside, they are destroying our tents. We can't breathe inside and many people are in hospital."
Muslim Brotherhood supporters reportedly torched at least two churches in other parts of Egypt, as violence mounted in Cairo.
Egyptian interior ministry spokesman Abdel Fattah Uthman said several Muslim Brotherhood leaders have been arrested.
"We arrested a number of Muslim Brotherhood leaders, but it is too soon to announce their names," Uthman told Egypt's private CBC TV.
At least 250 people have died in clashes in Egypt since Morsi's removal by the miiltary after days of mass protests by millions of Egyptians calling for his removal. Supporters of the Islamist president want him reinstated.