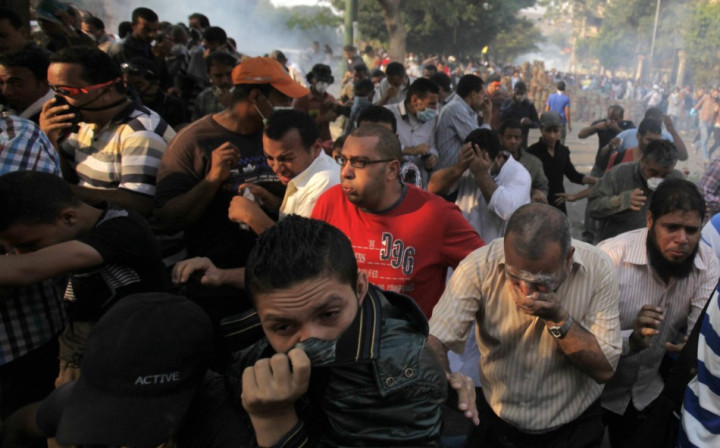 Deadly clashes between supporters and opponents of deposed president Mohamed Morsi have killed at least 50 people across Egypt as the country marked the 40th anniversary of the 1973 Arab-Israeli war.
At least 40 of the victims were reported in the capital Cairo, where hundreds of pro-Morsi demonstrators had gathered in the historic Tahrir Square to protest the removal of the Islamist leader in July.
The National Alliance for Supporting Legitimacy, a coalition of parties formed in support of Morsi, said at least a dozen of its supporters were shot dead by Egyptian security forces. The sound of heavy gunfire have been reported across several parts of Cairo.
The military-backed interim administration said 423 protesters were arrested across the country, nearly half of whom are believed to be members of the Muslim Brotherhood.
The death toll is the highest on a single day since 14 August, when security forces stormed pro-Morsi camps in Cairo, killing hundreds.
In the wake of the violence, the National Alliance said "it is now crystal clear that the coup is a nightmare for Egypt and its people and is trying so hard to tear the fabric of this nation.
"At the time when festivities are arranged for one section of the population, they call on Egyptians to dance on the dead bodies of their compatriots who oppose the coup."
Egyptian authorities had warned against anti-army protesters prior to the anniversary celebrations, saying that any demonstrator would be potentially treated as a foreign agent.
"There are a lot of people who think Egypt's army can be broken. Egypt's army is like a pyramid but it is a pyramid because the people of Egypt support it," said the military chief General Abdel Fattah al-Sisi.
Despite the violence, the interim government pressed ahead with the festivities. The powerful Egyptian army yet again flexed its muscle by displaying formations by jets and Apache helicopters in the capital in front of a cheering crowd.