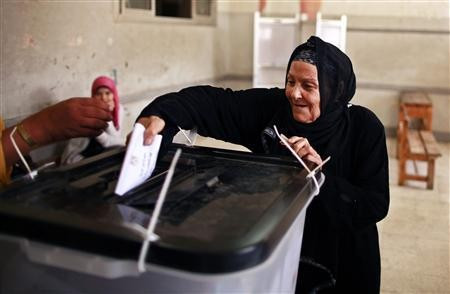 In the historic presidential elections in Egypt, the Muslim Brotherhood candidate has taken the lead as counting gets under way.
Mohamed Morsi, the candidate for the Muslim Brotherhood's Freedom and Justice Party, appears to be well ahead in the race based on an intial sample of results.
Exit polls also put Morsi ahead of the 12 other candidates drawn from secularists and Islamists.
"We trust that Mohamed Morsi will be the next president because all of the results are in his favour," Essam el-Erian, a senior party member, was quoted by the Wall Street Journal as saying.
The prediction was based on the results from 236 polling stations out of 13,000.
The 61-year-old Morsi was not the Islamist movement's first choice for the presidential post, but he was nominated after businessman Khairat al-Shater was disqualified as a candidate.
Full results will be not available for quite some time.
The other frontrunners like former Arab League secretary general Amr Moussa conceded that Morsi is well ahead and is most likely to secure a spot in the final run-off on 16 and 17 June.
This is the first election after dictator Hosni Mubarak was ousted more than ago.
If Morsi wins or makes it to the second round of the ballot, the Islamists are expected to secure a commanding position in the Arab world's most populous country.
The success of the Brotherhood seems to worry some moderate Muslims, secularists and a minority of Christians.
Although the party promised to usher in a renaissance in Egypt after the Mubarak-era of corruption, the Brotherhood itself seems intent on following Mubarak's hardcore Islamic principles.