A moderate-Islamist Egyptian presidential candidate has called Israel an "enemy" and pledged to review the 1979 peace treaty with the country during an historic television debate.
A former member of the Muslim Brotherhood, Abdel Moneim Abol Fotouh launched a tirade against Israel policies towards Palestinians during a televised battle with another top-rated candidate, the former chief of the Arab League and ex-foreign minister under Hosni Mubarak's presidency, Amr Moussa.
The debate, unthinkable under autocratic Mubarak, who was ousted 15 months ago after a popular uprising, was viewed by thousands across the Arab world and represents a climax of an army-led transition to a civilian rule.
Fotouh's words about Israel are likely to anger US officials, who are seeking support from moderate-Islamist movements after the revolution that swept away an historical ally.
"Israel is an enemy, built on occupation. It owns 200 nuclear warheads and doesn't respect international decisions," Fotouh said. "The agreement with Israel should be revised, and that which is against Egypt's interests should be removed immediately and what is in our interest should stay."
Moussa agreed on revising the treaty but spoke more softly about Israel.
"We have lots of disagreements. Most of our people consider it an enemy, but the responsibility of the president is to deal with such things responsibly and not run after hot-headed slogans," he said.
The two came at odds when Fotouh, jailed under Mubarak's administration, held Moussa to account for his ties with the former regime.
"There is a rule that says that one who created the problem cannot solve it," the 60-year old said.
Moussa, 75, denied the allegations. "The regime fell with its men and I wasn't part of it. I was a minister 10 years ago," he said.
Egyptians are due to vote on 23 and 24 May in the first round of the presidential elections, which are expected to end in a June run-off between the top two candidates. More than 80 million people will be called to vote.
The debate began with the screening of archive footage of the 1960 US presidential debate between John F Kennedy and Richard Nixon, the first ever televised presidential debate.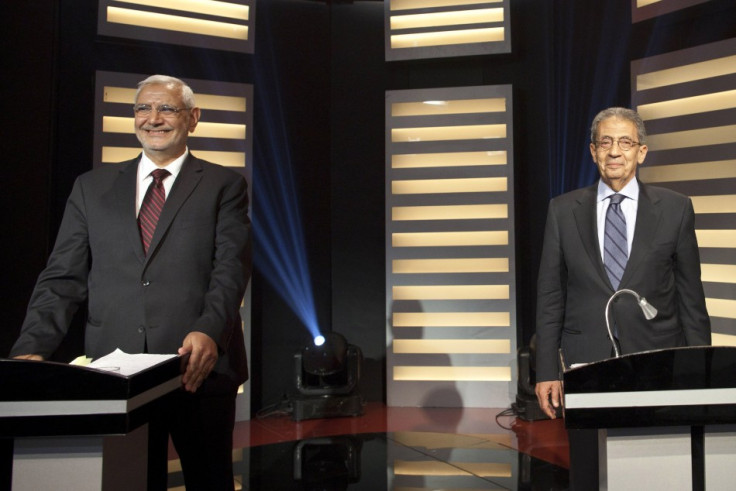 Earlier this year, a high-official from the Muslim Brotherhood had threatened to change the terms of the 1979 peace treaty with Israel if the US cancelled aid to the country.
The Jerusalem Post reported that 71 percent of Egyptians oppose US economic aid to the country, according to a Gallup Poll. Congress has already approved $1.3bn in military aid and $250m in civilian aid for the current fiscal year.
But the assistance is conditional and rests upon Egypt fulfilling its obligations under the peace treaty with Israel.
The treaty is highly unpopular in Egypt and many see the conditions on US aid as a violation of the country's sovereignty.