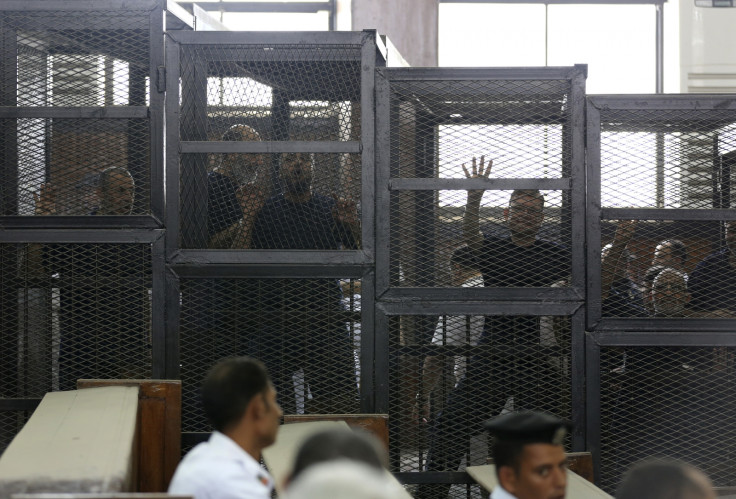 The Egyptian arm of Islamic State (Isis) has urged supporters to continue attacking judges in an audio statement posted on a jihadist website.
Last week, three judges were killed and several injured after former president Mohammed Morsi was given the death sentence by a Cairo court along with 100 defendants, mostly members of the Muslim Brotherhood.
Now, according to a Reuters report, the leader of the group Sinai Province, cleric Abu Osama al-Masry has said in the audio tape: "It is wrong for the tyrants [judges] to jail our brothers. Poison their food... surveil them at home and in the street... destroy their homes with explosives if you can."
While the audio tape is yet to be authenticated, the news agency reported that any violence against judges would spell trouble for President Abdel Fattah al-Sisi, who as army chief had removed the Muslim Brotherhood from power in July 2013 after a military coup.
Judges in Egypt have come under fire in the recent past and have been accused of "handing lengthy jail terms and mass death sentences against Islamists [Muslim Brotherhood members]".
New justice minister in Egypt
In further controversy, days after Cairo removed its justice minister Mahfouz Saber for 'classist' comments, it appointed Egypt's Judges Club head Ahmed El-Zend to replace him on 20 May.
El-Zend took over as the country's justice minister after Saber said in a televised interview: "A judge should come from a social class suited to the job, with all due respect to garbage collectors."
El-Zend has also made some controversial remarks in the past. In 2012 he had said: "Whoever asks for cleansing the judiciary should go cleanse himself."
According to a report in Ahram, El-Zend, while tackling the issue of sons of judges being employed in court in place of other more qualified candidates, said "those who criticise the sons of judges are haters whose appointment was rejected. The hiring of sons of judges will continue year after year and no power in Egypt will stop this holy crawl."
Although the appointment of El-Zend has received a mixed response, it remains to be seen what Cairo would do to tackle the growing militia in the country, and protect its judiciary.