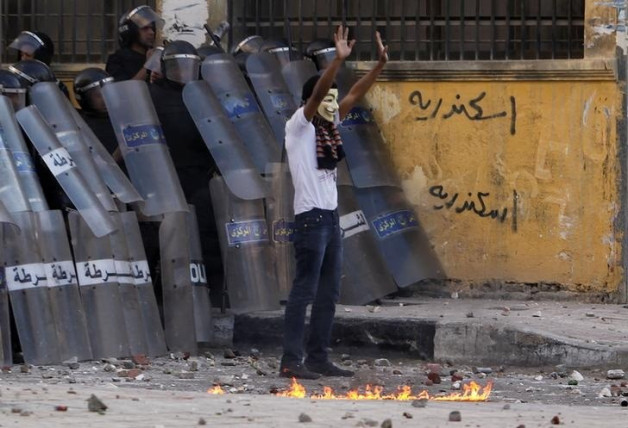 A 14-year-old boy and a soldier are among seven people who have died in the Egyptian city of Suez during events marking the second anniversary of the revolution that toppled former president Hosni Mubarak.
Troops were deployed in Suez to reimpose order after a security official declared the area 'out of control' following exchanges of fire between anti-government protesters and those loyal to incoming president Mohammed Mursi. Suez security chief Gen Adel Refat requested the armed forces intervene after police were fired on, Nile TV reported.
More than 450 protesters and 95 members of security forces were injured in demonstrations across the country to mark the anniversary, according to health ministry sources.
There has been a resurgence of protest across the country in recent months, since President Mursi issued an edict that allowed him to run the country until a new constitution was drafted. He later reversed the decision.
In Cairo, thousands were engaged in a stand-off with police outside the offices of Nile TV, with protesters throwing Molotov cocktails and police firing tear gas.
An eighth person was killed in Ismailia, on the west bank of the Suez canal, when protesters set alight the headquarters of Mursi's Freedom and Justice party, the political wing of the Muslim Brotherhood. President Mursi responded by appealing for calm.