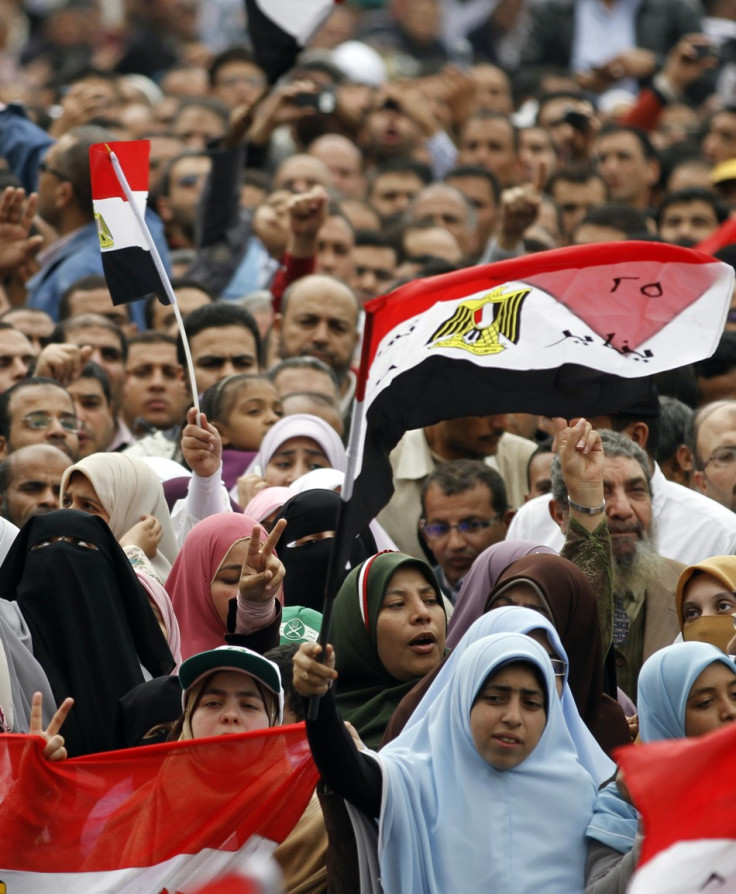 As the second day of Egypt's landmark parliamentary elections takes place, the trial regarding virginity checks allegedly conducted by the security forces on Samira Ibrahim while in detention in was due to start today but has been delayed to December, prompting more outrage from women protesters in Egypt.
The Virginity 'Tests'
Seven women detained during protests in March complained they had been sexually assaulted in a military prison but Samira Ibrahim was the only victim who filed a formal sexual assault complaint with the military prosecutor.
Giving her account of what took place Ibrahim explained
"Two men in military uniform came into the cell. They asked us which of us was unmarried and then told the seven of us that they were going to examine us to see if we were really virgins. They took us out one by one. When it was my turn they took me to a bed in a passageway in front of the cell. There were lots of soldiers around and they could see me. I asked if the soldiers could move away and the officer escorting me tasered me. The woman prison guard in plain clothes stood at my head and then a man in military uniform examined me with his hand for several minutes. It was painful. He took his time. It was clear he was doing it on purpose to humiliate me."
She also added that after filling the official complaint she received a series of threatening anonymous phone call since she pressed charges.
The head of the military prosecution, Hamdy Bedien, denied Samira Ibrahim had been sexually assaulted.
The case has now been postponed until December but female activists have called for a march to take place Tuesday in support for Ibrahim.
Ibrahim's case comes as several women have complained of being sexually assaulted while being detained by the security forces or during protests.
Female Journalists Assaulted
Last weektwo female foreign journalists also spoke of sexual assaults carried out by crowds or police as they tried to cover demonstrations in Cairo's Tahrir Square.
Award-winning journalist Mona Eltahawy was arrested Thursday while taking parts in protests near Tahrir Square and was detained for twelve hours.
Upon her release she took to Twitter to complain about her treatment, saying she had been sexually assaulted and suffered a broken hand and arm.
"Besides beating me, the dogs of (central security forces) subjected me to the worst sexual assault ever," Eltahawy said on her Twitter account shortly after being released.
"Five or six surrounded me, groped and prodded my breasts, grabbed my genital area and I lost count how many hands tried to get into my trousers" she added.
"My left arm and right hand are broken (according) to xrays," she said, posting pictures of herself in casts.
Later, a French journalist working for public television channel France 3, revealed she had also been violently beaten and sexually assaulted while covering the protests, on the same day as Eltahawy.
"We were then assaulted by a crowd of men. I was beaten by a group of youngsters and adults who tore my clothes" and then molested her in a way that "would be considered rape,"
"Some people tried to help me but failed. I was lynched. It lasted three quarters of an hour before I was taken out. I thought I was going to die," she continued, adding that her cameraman was also beaten.
Female Civilians Assaulted
However far from only affecting female journalists, women in general have complained of being sexually assaulted while in detention or during protests.
The organisation HarassMap, dedicated to fighting harassment on the streets of Egypt has urged female protesters to report sexual harassment and a blog visible on its web site reveals several posts of women explaining they had been assaulted.
"I got ogled and touched many times in the middle of tear-gas bombs Mohammed Mahmud" a post read on November 27.
"Some people in Tahrir are harassing unveiled girls - I was sexually harassed many times in five minutes," another read on the same day.
Engy Ghozlan is one of the founders of HarassMap, explained that "The problem is there are so many kinds of harassment," "CSF forces systematically harass female activists like Mona el-Tahawy and others as a form of punishment or deterrence."
Activists insist the same practise were used during the Mubarak era, and say it is being used as a way to keep women outside of the public life.
"For years Mubarak's regime was torturing women, harassing women, detaining mothers and daughters and wives of prisoners to put pressure on them," Mozn Hassan, director of the research organization Nazra for Feminist Studies told CNN. "For sure it's the culture of the SCAF (Supreme Council of the Armed Forces).
"It's a culture-based violence towards women. They want to exclude us from the public. The SCAF want to give the message that revolutionary people, if they are men, they are thugs, if they are women, they are sex workers and prostitutes."