Russia's President Vladimir Putin has grown accustomed to being on the back foot over the past year.
Since he ordered the Russian military to seize the Black Sea peninsula of Crimea from Ukraine in March last year, Putin has graduated to achieve pariah status in much of the West.
The breakdown between the old Cold War adversaries has seen the EU and US slap ever-tougher sanctions on Russia's economy, with Moscow imposing a ban on fresh food from the EU.
Shunned by world leaders at the G20 summit in Australia last November, Putin left Australia early, saying he needed to get some sleep.
Months later, with Ukraine undergoing one of its bloodiest spells since the conflict began, the enmity between Putin and the West has thickened.
Apparently fed up with Russia's ongoing role in the brutal conflict in eastern Ukraine, European leaders reportedly gave the president an ultimatum over a peace deal.
US lawmakers are pushing the White House to deliver lethal aid to Kiev, in order to recalibrate the military balance on the ground in Ukraine in favour of the government forces.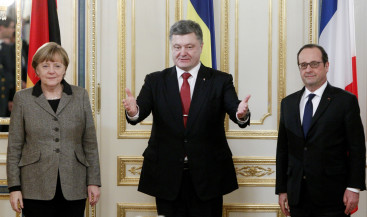 After months of relentless criticism from this band of democracies, Putin's trip to Cairo this week will provide some relief.
In President Abdel Fattah al-Sisi, Egypt has its own strongman who has shown a ruthless streak against his opponents.
Uneasy with the way Sisi headed the military coup that toppled Egypt's first elected president in 2013, the US and EU offered only lukewarm support to the former general's bid for power.
Putin, on the other hand, was one of the first world leaders to back Sisi's presidential bid in 2014.
His two-day visit to Cairo is his first trip to Egypt in a decade and is an opportunity for Putin to show that he is not completely isolated on the world stage.
The two leaders are expected to discuss the conflicts in the Middle East, while a range of commercial deals are expected to be signed.
Among them are possible agreements for Russia to boost its agricultural imports from Egypt, in order to partially offset the losses from the EU, while Egypt could expand its wheat imports from Moscow.
The two sides could even go as far as dropping the use of the dollar currency in their bilateral trade relations, according to Russian state media outlet RT.
Putin is hoping to boost trade between the countries, which he said expanded rapidly in 2014.
"The volume of bilateral trade has increased significantly over the past years. In 2014, it increased by almost half compared to the previous year and amounted to more than $4.5bn [£2.95bn]," he told RT.
The two sides have previously discussed the possibility of creating a free trade zone, although talks on this front are not expected to reach a breakthrough on this occasion.