It is not clear whether Egyptian judoka Islam el-Shehaby is being recalled for a lack of sporting etiquette or because his Olympics is over, but either way his refusal to shake the hand of his Israeli opponent, Or Sasson, has been the major talking point after his defeat in Rio. El-Shehaby, who was booed as he left the mat on Friday, has been accused of betraying the spirit of fair play and friendship and been condemned by Olympic authorities both at home and abroad, but his decision to go ahead with the bout at all was criticised by hardliners in Egypt.
An Islamist TV network in Egypt said that el-Shehaby would be seen as a "traitor" and a "normaliser" for fighting an Israeli and that, win or lose, he would be shamed at home for taking part at all.
The furore has illustrated the schizophrenic nature of relations between Egypt and its neighbour. The two countries fought three wars between 1948 and 1979, when Egyptian President Anwar Sadat became the first Arab leader to sign an accord with Israel at Camp David.
As a result of the deal, Israel withdrew from the Sinai Peninsula, which it had occupied after defeating Egypt in the 1973 Yom Kippur War. Sadat visited Jerusalem in 1977 and then signed the deal in 1978, receiving the Nobel Peace Prize with Israeli leader Menachem Begin.
It would cost the Egyptian leader his life. In 1981, Sadat was assassinated at a rally to mark the anniversary of the 1973 war after two years of demonstrations that followed his deal with Israel. His deputy prime minister, Hosni Mubarak, who stood at his side, was injured in the attack, which killed Sadat and ten others.
It is not just the legacy of three humiliating military defeats at Israeli hands that has fuelled Egyptian anger towards the Jewish state, but Israel's actions in the West Bank and Gaza, which shares a border with Egypt and was decimated in the brutal 50-day war between Hamas and Israel in 2014, as well as in 2012 and 2008.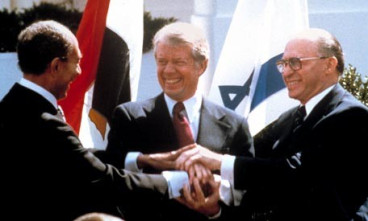 Gaza's Hamas government is an offshoot of Egypt's Muslim Brotherhood, which was in power between 2012 and 2013 before being ousted in coup by current Egyptian leader General Abdel Fattah el-Sisi. During the brief period of Brotherhood rule in Egypt, Gaza's Egyptian border was open and the territory's economy flourished.
Sisi reversed that decision and has jailed record numbers of Brotherhood members since taking power in 2013. Since then, Sisi has found common ground with the hard-line government of Benjamin Netanyahu over a shared hatred of the Muslim Brotherhood and Hamas. Egypt's foreign minister recently visited Israel as part of a Saudi delegation and the possibility of Netanyahu visiting Cairo has recently been mooted.
It has come at a time when Sunni Arab nations such as Saudi Arabia, Egypt and the UAE have been pushed into a marriage of convenience with Israel over common opposition to the US and Europe's rapprochement with Iran. Riyadh, Cairo and Abu Dhabi share Tel Aviv's horror at the thought of a powerful and legitimised Iran flexing its muscles in the Middle East.
But, as el-Shehaby's actions in Rio suggest, such pragmatic geopolitical considerations are yet to filter down, and a tolerance towards Israel – as well as a willingness to overlook the Palestinian situation on the part of Egyptian politicians when negotiating with the Israelis – does not yet resonate with the Arab street.
"The pragmatic relationships that many of the region's leaders enjoy with Israel show few signs of percolating down to grassroots Arab society, which remains virulently anti-Israeli – and in some cases virulently anti-Semitic," said Hugh Lovatt at the European Council on Foreign Relations.
Any moves to further normalise relations with Israel will also do little to placate Islamist and Salafi elements in Egypt that are very much entrenched in Egyptian society – as was seen in the 2012 elections, when Islamist and Salafist parties swept the board, especially amongst the poor and in the countryside.
Standing next to Anwar Sadat on October 6, 1981, Mubarak saw first-hand the costs of peace with Egypt's old enemy. During his 25 years in power walked a tightrope between maintaining relations with Israel and playing to popular anger over the humiliation of previous military defeats and the situation in Palestine. It remains to be seen whether Sisi is able to do the same .