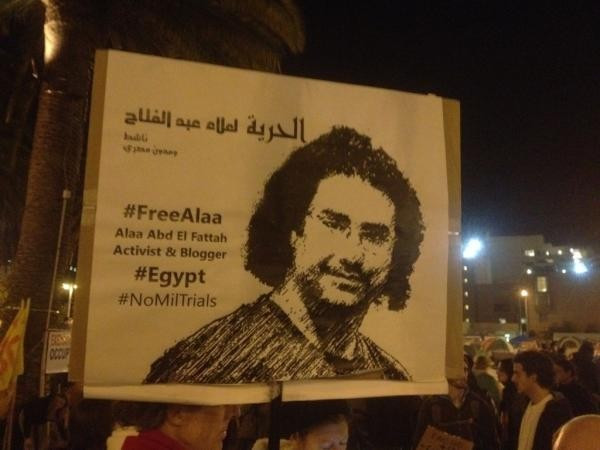 Egyptian Blogger Alaa Abd El Fattah is set to stay in prison and will be tried by a civilian court for his involvement in the Maspero massacre, while other 27 people were released Thursday morning for the same case, according to reports.
The latest development came after a court dropped charges of inciting protest and gathering illegally against him.
El Fattah, who recently sent a touching letter to his wife on the birth of his child while he was in prison, was arrested at the end of October under charges of premeditated murder and act of terrorism in connection with the Maspero massacre when a Coptic Christian protest in Cairo, at the burning of a church in Aswan, turned into a bloodbath. Violent clashes between protesters and the security forces left 28 people dead and at least 325 injured.
El Fattah widely criticised the armed forces for the violence and was summoned for questioning and held in detention. The prominent blogger is a popular voice in Egypt, renowned for his criticism of the Mubarak regime and of the Supreme Military Council which took over power.
News of the release of 27 people linked to the massacre sparked a mixed reaction on Twitter. Rumours of an immediate release of El Fattah were dismissed by his wife.
"Releasing those accused in the #maspero case EXCEPT Alaa proves he was arrested for a completely different reason" tweeted an Egyptian blogger.
Italian journalist Marina Petrillo argued that "if all the other suspects were released except @alaa, it's a personal matter between him and the SCAF".
Among other charges, Fattah was accused of inciting to violence and carrying "knives and firearms likely to cause death."
The blogger was also accused of premeditated murder after the prosecution said he attempted to storm a government building "by force and violence" and attacked people, ultimately leading to the death of an Egyptian corporal. Fattah was also accused of "stealing weapons and ammunitions" from the armed forces and of vandalising public property "for purposes of terrorism."
Soon after the publication of the report, Fattah's supporters took to Twitter to spread the news using the #FreeAlaa hashtag and condemning the trails and charges.