The opening session in the trial for the Port Said football disaster in Egypt, in which 74 people died, was suspended briefly after defendants erupted in protests proclaiming their innocence in court.
The 73 defendants, among them nine senior police officers, face charges relating to the football riot in the Egyptian city of Port Said on 1 February.
Dressed in white and held inside a courtroom cage, the defendants chanted "Justice" and "Death".
The session resumed after half an hour when order was restored.
A massive fight broke out between at the stadium following a game between rivals Al-Masry and Al-Ahly on 1 February.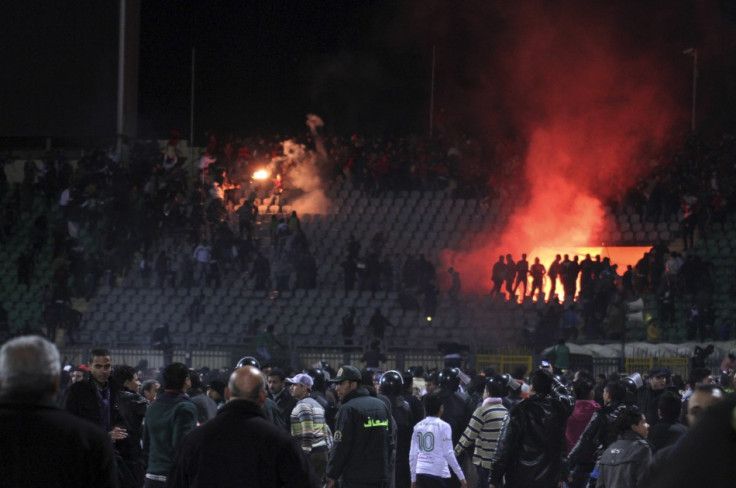 Many face murder charges. The police officers have been charged with assisting the group from home team Al-Masry attack rival fans of Al-Ahly, a club closely associated with Egypt's 2011 uprising against president Hosni Mubarak.
More than 250 people were injured in the stampede as fans panicked to escape the rioting.
Al-Masry fans invaded the pitch after their team beat the visitors 3-1. They threw rocks, bottles and fireworks at Al-Ahly supporters, sparking chaos and panic among players and fans.
The violence marked one of the deadliest incidents in football history, and came amid witness claims that security forces did little to prevent the rioting.
During the pitch invasion, steel doors at the stadium were said to be bolted shut, trapping fans trying to escape from the stands. Dozens were crushed to death
The deaths sparked days of violent protests in Cairo, in which another 16 people were killed.
The Egyptian Football Association ordered the Port Said stadium where the stampede took place to be closed for three years.
Many believe the football riot was orchestrated by infiltrators - either by the police or supporters of ousted Mubarak.
Muslim Brotherhood: 'Invisible Hand' Behind Egypt Football Tragedy
Egypt Football Tragedy a Massacre, Says Parliamentary Speaker