The Egyptian government is torturing detainees as part of a brutal crackdown on dissent.
Up to 20,000 people have been held by Egyptian authorities since last July, when former Egyptian President Mohamed Morsi was deposed, and many are emerging from state custody telling of brutal beatings, electric shocks and sexual abuse.
Scores of personal stories tell of brutal torture techniques used on detainees, including teenage children, by the military-backed interim government as part of its sweeping clampdown.
Ahmed Abdel Fattah, 15, spoke of 34 days of torture at a local police station after he was handed over to authorities by thugs when he refused to give up a mobile phone he had been using to film an Islamist protest.
"They electrocuted me in sensitive places like my spine and here on my arms, and in sensitive areas like between my legs," he told the BBC.
"When they electrocuted me I used to fall down on the ground and I could not stand up. At the same time they were beating me, and sometimes they would throw water to increase the voltage."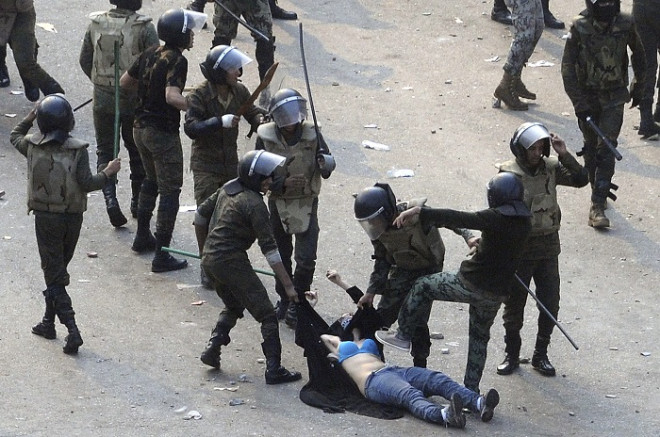 Fattah said his ordeal was made worse because the authorities suspected him of belonging to the Muslim Brotherhood.
"They wanted me to be afraid," he said. "They thought I would have a lot to confess to. Of course I am not from the Brotherhood at all. They were saying: 'So-and-so is getting outside financing and you are getting weapons from them. They said you had Molotov Cocktails on you and you hit an officer'. I told him I could not hit an ant."
Democracy campaigner Yassin Mohammed, 19, also spoke of being electrocuted while under detention.
"I was surprised when they took off my trousers and put the wires on me," he said. "I was screaming and shouting." His account of being sexually assaulted is too disturbing to print.
Mohammed was arrested at a protest calling for the release of several detainees, including 19-year-old student Ayat Hamada, who also spoke of sexual abuse.
"It was physical," she told the BBC. "I don't dare to explain more. But they harassed us in a very, very humiliating way, and the aim was to break our spirits."
The testimonies tally with evidence gathered by Amnesty International, which found that supporters of ousted Egyptian President Mohamed Morsi have been systematically captured, beaten and tortured since mass rival rallies erupted last summer.
Hassiba Hadj Sahraoui, deputy director for the Middle East and North Africa at Amnesty International, said: "Allegations that torture is being carried out by individuals are extremely serious and must be investigated as a matter of urgency.
"The apparent use of torture for reprisal attacks is unacceptable. Political leaders have a responsibility to condemn these criminal acts and call on their supporters to renounce such human rights abuses."