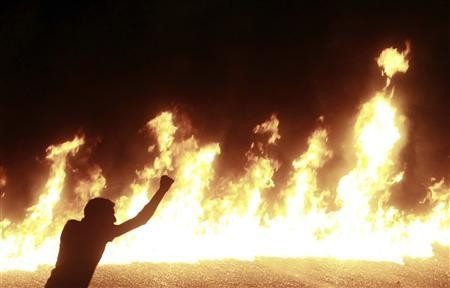 Egyptian state media coverage of Sunday's violent clashes in Cairo between thousands of Christian Coptic demonstrators and Muslim supporters and security forces has come under fire after witnesses and journalists insisted it provided a distorted account.
The demonstrators had started a peaceful protest in the Maspero district, off Tahrir Square, over recent church burnings and demanded equal rights for the country's 8 million Christians, but were soon surrounded by military and police forces in tanks and armed with tear gas and live ammunition.
While state media asserted that much of the violence came from the demonstrators' side, eyewitnesses revealed a different account, asserting that 21 protesters, most of them Copts, were killed as tanks ran over several young people and police shot rubber and live bullets.
The army said three soldiers were also killed and the Egyptian Ministry of Health has confirmed that at least 329 people were wounded by the end of the evening.
A number of critics accused state television of not only failing to calm matters, but aggravating an already tense situation.
The allegations came after broadcasters on state television called on the Egyptian public to head to Maspero en masse to defend soldiers from what they described as "angry Christian protesters."
Eyewitnesses say that as the night unravelled and the demonstration continued, vigilante mobs, some armed with machete and swords, attacked demonstrators who were trying to escape police violence.
Call-ins to state TV from viewers, meanwhile, corroborated the state's official version of events with a call-in viewer reporting that "Armed Christians clashed with and killed military police."
State television was also accused of providing a one-sided account by airing footage of wounded military but not images of dead demonstrators, which were circulating over the Internet.
When questioned about the coverage, Minister of Information Osama Heikal said, "Announcers reported that Christian protesters had attacked the army only because they were under emotional stress."
The minister then called on Egyptian media, government and private, to exercise caution when broadcasting news, but his plea failed to convince political activists and some journalists, who are still calling for his resignation.
Hisham Kassem, a well-known Egyptian publisher, called on lawyers to lodge an official complaint against Heikal and state television broadcasters, insisting Sunday night's coverage was a proof state media had incited sectarian strife.
Gamal Zahran, a former member of Parliament, also demanded Heikal's resignation and an investigation into "state television's role in encouraging sectarian division."
The coverage also was criticised by several potential presidential candidates and political parties, who organised a joint emergency press conference, with Mohamed Abu El-Ghar, president of the recently licensed Social Democratic Party, calling official media "hypocritical."
Following the backlash, state television employees also blasted the coverage.
State television news anchor Mahmoud Youssef took to Twitter to say he had not been responsible for official coverage of events and Dina Rasmy, a newscaster on state television's Channel Two, posted on Facebook Monday that she was "ashamed" of working for state media, which, she said, "had proven itself to be a slave for whoever rules Egypt."
Rasmy also said state media has actively encouraged "civil war" by calling on Egyptian citizens to go to Maspero to support the army against what it called "Christian aggressors."
Also, live broadcasts by the privately-owned 25 Channel were cut after military police stormed its headquarters, insisting they were searching for protesters who had been hiding. The studio is located in the Maspero district, overlooking the site where the clashes took place.
The army also stormed the offices of the U.S.-based Al-Hurra news channel, which was also covering Sunday's events, with a reporter saying later on that the network had been forced to halt its coverage of the clashes "for security reasons."
Tensions between civilians and the military have been on the rise since the ousting of Hosni Mubarak, with many pointing out to the controversial role state security forces played in his downfall.
Under Mubarak, state media were the voice of the regime, so news that Sunday's coverage incited to violence against the Copts will only bolster calls for the military to leave power.