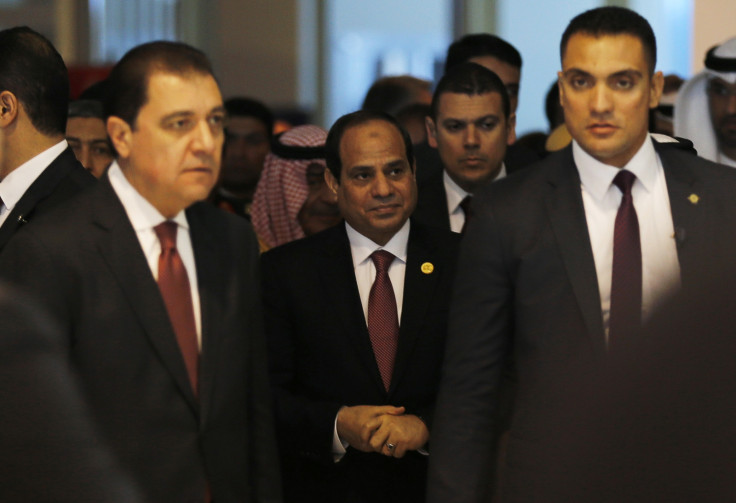 Egypt's economic development conference began in earnest on Friday March 13 as John Kerry addressed an audience at the American Chamber of Commerce.
The US Secretary of State said Egypt has made the right moves in terms of making its economy more attractive to investors, adding that US companies were ready to help its economic recovery.
For the thousands of delegates that have gathered on the shores of the Red Sea at the Egyptian resort town of Sharm el-Sheikh this weekend, Kerry's words will be welcomed. The US's top diplomat endorsing Egypt's economic programme is an important landmark for a country where political turmoil has fuelled a disastrous four years for the economy.
Sisi the economic reformer
The showpiece of Sharm el-Sheikh is set to be an investment law, already ratified by Parliament but yet to be signed by President Abdel Fattah el-Sisi. It is supposed to make things easier for foreign investors in Egypt.
"Egypt is in desperate, desperate need of more investment. It has steadily declined since the Arab uprisings and revolution in 2011 and is well below the rate of other emerging markets and well below the rate Egypt needs to enjoy a period of sustained economic growth," said Jason Tuvey, Middle East economist at Capital Economics.
The Sisi administration is making a concerted effort to woo foreign investors and it is tackling competition legislation and bankruptcy laws. There are some concerns that its fiscal reforms have slowed down in recent months, after a bright first few months. The president also removed some subsidies on energy and bread, policies that won the approval of the IMF late last year.
"We haven't had too much since the middle of last year when the government hiked energy prices," Tuvey told IBTimes UK. "The government probably needs to come to this conference and say to investors, 'We've got a clear programme of what we want to do over the next five years.' That will be crucial if Egypt is to experience a pick-up in investment over the coming year."
While the event is officially an investment conference, the possibility of any new major deals being signed is low. A series of public sector infrastructure mega projects have been lined up, but these are long in the making.
"We might see some deals signed but these will have been in the pipeline beforehand," said Tuvey. Instead, the summit is more of a political circus than an economic showcase, with Sisi cast as ringleader.
Since the ouster of Egypt's first elected president Mohamed Morsi in July 2013, in an act that may or may not have amounted to a coup, Sisi has promised to restore security across the country. His regime has relentlessly pursued the organisation that Morsi worked for, the Muslim Brotherhood, banning the group outright and arresting thousands of its activists and members.
It wants to continue doing so, or even step up its efforts, and it wants to do this with US assistance. However, these are exactly the kind of policies that will make the US wary of renewing its military aid programme.
Washington had a long-standing arrangement to provide Cairo with $1.5bn ($2.2bn) of military equipment every year. This arrangement was suspended in the aftermath of Morsi's removal from power, implying that Washington thought his ouster looked a lot like a coup. Sisi wants it back and he was hoping he would get it at this conference, making a public appeal to the US over the military aid programme on 9 March.
Sisi wants it all but he needs Gulf aid
When the former military chief won elections, he made a bargain with the Gulf Arab states of Saudi Arabia, the United Arab Emirates and Kuwait. Sisi received billions of dollars in financial assistance which helped to stave off bankruptcy. The financial aid has reached $23bn since Morsi was ousted. In return, Sisi's administration launched an extreme crackdown on dissenters in the country, in particular the Muslim Brotherhood.
"There have been at least 16,000 arrests, while there an additional 41,000 who have been indicted, charged or sentenced," said Amnesty International Egypt researcher Mohamed Elmessiry.
Since Morsi was ousted in July 2013, the number of deaths in custody have risen, freedom of association has been curbed and trials have become increasingly unfair, Elmessiry told IBTimes UK, adding that some of the mega-projects being touted at Sharm el-Sheikh could lead to further human rights abuses in the country.
"Amnesty International has documented before that the government do not respect human rights standards when they forcibly evict residents to build these kinds of compounds and projects," he said. "Investors must understand that the projects that they engage in may lead to human rights violations. Many real estate projects. Egypt has a negative record of forced evictions," Elmessiry said.
Given the attention that Western-based human rights groups and liberal media outlets have paid to the deteriorating rights situation in the country it was surprising when Egypt carried out the first execution of a Morsi supporter on 7 March, less than a week before the Red Sea event. Amnesty said the trial was controversial, with the court making its judgment based entirely on "unclear audio/visual evidence".
The execution was a snub to Western and Egyptian human rights organisations and also a nod to the Gulf Arab states, whose citizens are making up the majority of the investor delegates at Sharm el-Sheikh. In a single act against the Brotherhood, Cairo revealed that its long term investment plans are inextricably tied to financial aid from the Gulf Arab monarchies and the inevitable political strings.