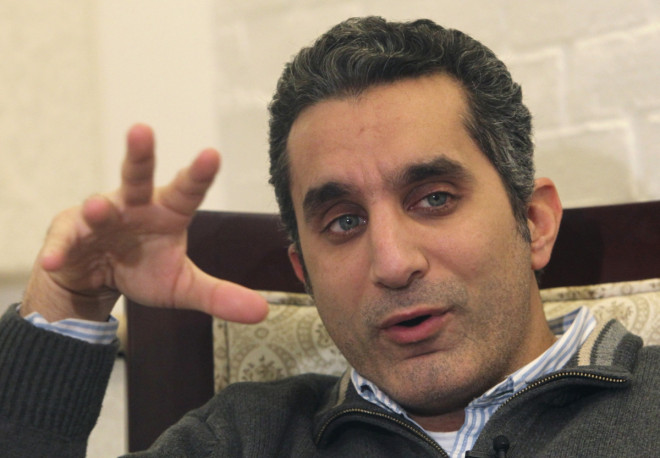 Egypt's celebrated comedian Bassem Youssef has decided to end the popular satirical TV show Al Bernameg for fears of censorship and reprisal from the military-led government.
The surgeon-turned-satirist announced from his studio in Cairo that the show, modelled after Jon Stewart's The Daily Show, was off air due to the current "media atmosphere".
Youssef's show was previously suspended by Saudi channel MBC Masr ahead of presidential elections to not "influence voters".
"The environment that we live in is not suitable for the show and I am tired and we are at the end of our tether," Youssef said. "To those who are happy the show stopped: I tell them that the stopping of El-Bernameg is a victory for us."
Youssef started his programme on YouTube after Egypt's revolution in 2011 and quickly became a voice for pro-democracy activists, gaining more than five million views in the first three months alone.
But in 2013, Egypt's public prosecutor opened an investigation into Youssef for insulting Mohammed Morsi, who was the Muslim Brotherhood's president at the time. The show was cancelled on Egyptian satellite channel CBC in October 2013 following complaints that Youssef had mocked supporters of the ex-army chief Abdel-Fattah el Sisi, who has won the country's presidential race last week by an overwhelming majority.
Youssef was featured in Time Magazine's 100 Most Influential People in 2012.