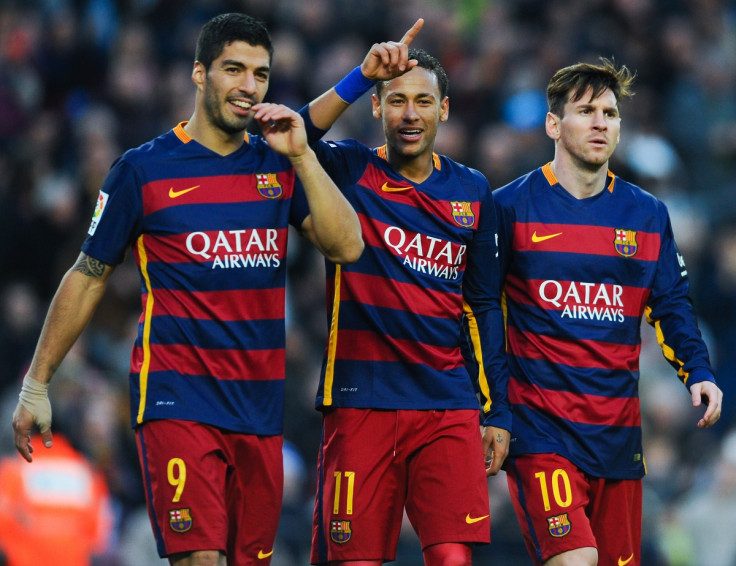 Luis Enrique has said Barcelona would finally kill off any chance of Real Madrid winning La Liga if his team win El Clasico on 2 April, as it would increase the gap between the two teams to 13 points. The Spanish boss also played down concerns over the fatique levels of key stars like Lionel Messi, Neymar and Luis Suarez, adding that the only significant absentee for the match will be Jeremy Mathieu.
Barcelona are currently 10 points ahead of Real Madrid and nine over Atletico Madrid, with just eight games remaining in the season. Luis Enrique has admitted that defeat of his side's arch-enemies would be a fatal blow to their hopes of winning La Liga.
"Obviously [if we win] we would give the final blow to Real Madrid and Atletico Madrid would be our only rivals for the title. It could be a definitive game, as we are running out of matches now. But this is just an hypothesis. I hope we win and that we deserve to win."
Barcelona have been forced to prepare for the game with most of their first-team players away on international duty. The likes of Suarez, Messi and Javier Mascherano have barely had time to train after returning to the club late in the week. Luis Enrique, however, has insisted that the motivation of facing Real Madrid will give the club a mental fitness boost on Saturday.
"I'm not worried about tiredness. These kind of games generate such energy for the players that I am not concerned in the slightest," he said. "I've seen the faces of Messi and the other players. They are crazy to play and win El Clasico."
"The rivalry between Barcelona and Real Madrid is well understood within sport. There's nothing that gets a Barca fan going more than beating Real Madrid."
Luis Enrique also suggested he does not plan to rest key players for the Champions League quarter-final against Atletico Madrid, despite it taking place a mere three days later.
"Is there a game on Tuesday?" the Barcelona boss asked ironically. "No, it will not have any influence at all. The only important game is tomorrow."
The only significant absence for El Clasico will be Mathieu, after the France international was forced to go under the knife on Thursday. He tore his medial meniscus during France's 4-2 victory over Russia on 29 March.
"We arrive to the game in the best possible way because this is a game which asks you to be at 100%. And because all of the players, apart from Jeremy [Mathieu] have returned safe and and in perfect condition. We're motivated and thinking about the game".
Barcelona captain Andres Iniesta said earlier this week his side were extra-motivated to win El Clasico in memory of Johan Cruyff, after the club icon passed away last week.
Luis Enrique added: "Cruyff would have wanted to see a spectacular game of football. What Johan Cruyff would like, more than tributes, is for us to win the game because we deserve to, by playing good, spectacular football."
"The idea of 4-3-3 or 3-4-3 has been at Barca for a long time. It's something that has become a part of the club and I hope it stays that way for a long time. Our idea of football is all about putting on a show. Not just winning, but winning with style. That's why we sign a certain kind of player. We look for individual flair through command of the ball and a clear idea of how to play. There have been different managers over the years, all with different approaches to the same method. It's not easy to do. Other teams have tried it, but you need to stay faithful to the idea, even when the results aren't going so well."