El Nino: Ethiopia making 'every effort' to mitigate devastating drought as 10 million at risk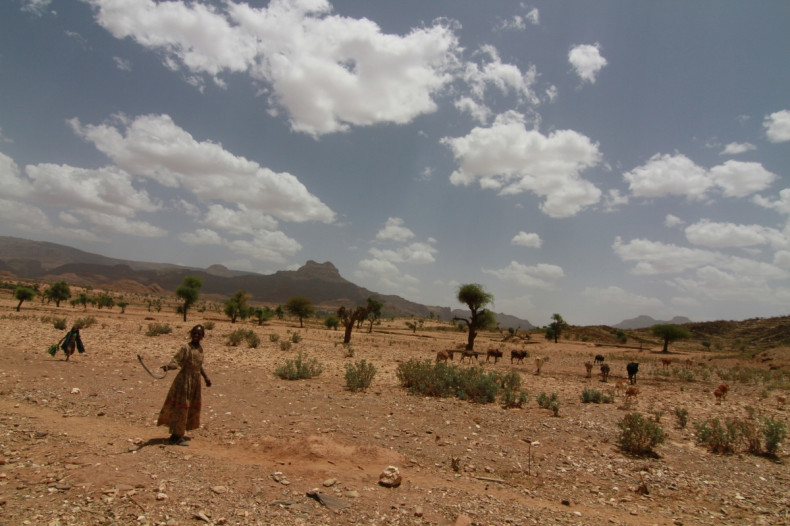 Ethiopia is making every effort to mitigate the effects of a severe drought exacerbated by the El Nino phenomenon, caused by warm water in the Pacific Ocean, the Ethiopian government has told IBTimes UK.
Ethiopian leaders released a national emergency response plan and are working with relief agencies to limit the impact of the drought, Abiy Berhane, minister counsellor at the Ethiopian embassy in London, explained.
"El Nino has significantly impacted weather patterns in Ethiopia over the last few months, causing severe drought, limiting agricultural production, seriously affecting pastoralist livelihoods and creating food insecurity among vulnerable households," Berhane said.
"As the current drought has not only affected smallholder farmers but also seed producers, it has aggravated already existing seed shortages across the country and made it even harder for farmers to plant."
Ethiopia is inhabited by 93.1m people, the majority of whom live on agricultural practices. According to official forecasts, at least 10.1m will face food insecurity due to the drought, with fears that its effects will be worse than those caused by a 1984 famine that killed nearly one million people.
Earlier in January, three CEOs from Save the Children visited Ethiopia's Afar and Amhara regions, the worst affected by the drought, urging the international community to take immediate action to tackle the "enormous scale of devastation".
However, Berhane explained that, in recent years, the government has managed to develop programmes and structures able to conduct nationwide relief efforts and mitigate negative climate effects.
John Graham, Ethiopia Country Director for Save the Children UK, described the situation in Ethiopia as "very bad", adding that cases of severe acute malnutrition were being recorded along with "substantial" livestock losses. However, he also said he was impressed by how the country had reduced its vulnerability to climate change and was able to respond to the emergency promptly.
The Food and Agriculture Organisation (FAO) announced a $50m (£35m) plan to assist 1.8 million farmers and livestock keepers.
"The first critical phase will focus on the Meherseason between January and June," Berhane said. "This intervention will include a mix of emergency seed distribution, small scale irrigation projects and backyard gardening incentives targeted at empowering women's groups with tools, knowledge and access to microloans."
40 million people at risk across southern Africa
Gregory Barrow, head of the UN World Food Programme London office, told IBTimes UK that at least 14 million people will face food shortages in the coming weeks in southern Africa. However, WFP and other humanitarian groups have warned 40 million could be affected by food insecurity across 10 countries in southern and central Africa.
In southern Africa, the countries worst affected by the drought are Malawi, Zimbabwe, Madagascar and Lesotho.
Nearly three million people are expected to face food insecurity in Malawi, with the WFP warning that a lack of funds might further threaten their survival.
At least 1.5 million people are at risk of food shortage in Zimbabwe, where the meteorological department carried out a cloud-seeding operation as nearly 100% of the country received less than three-quarters of its average rainfall.
Nearly two million people are at risk in Madagascar and 650,000 people in Lesotho. In addition to crop losses, water shortages are also causing the death of livestock in these countries as well as South Africa, Angola, Mozambique and Swaziland.