The SNP are set to wipe-out Scottish Labour at the general election by taking all 59 House of Commons seats north of the border.
An Ipsos MORI poll, conducted between 22 and 27 April for STV news, found that the nationalists were on 54%, well above Labour's 20%.
The study of more than 1,000 voters, revealed that Nicola Sturgeon's party had increased their support by 2% on the last poll by Ipsos MORI and Labour were down 4%.
The data means, by inputting it into Electoral Calculus, that Jim Murphy and all of his Scottish Labour candidates are set to lose on 7 May.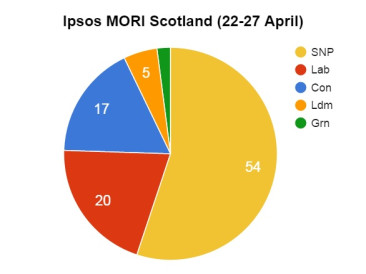 The figures come just hours after Sturgeon claimed the Trident nuclear deterrent is a "status symbol" for the British establishment.
"What I believe we need are strong conventional forces and I believe conventional forces have been compromised because of the obsession with Trident, which I think is a status symbol rather than a device to genuinely protect the country," the First Minister of Scotland told BBC Breakfast.
She added: "We need strong conventional forces, not new nuclear weapons."
Labour leader Ed Miliband has ruled out any post-election deal between the SNP and Labour after Sturgeon called on the parties to work together in a bid to keep David Cameron out of Number 10.
"I'm not interested in deals, no ... The way the House of Commons works is that we want to put our Queen's speech before the House of Commons and the other parties will vote," Miliband told the BBC's Andrew Marr show.
The commitment means that Nick Clegg and the Liberal Democrats are the most likely partners of Labour in the event of a hung parliament (when no party holds a majority of MPs in the Commons).
The latest national opinion poll from YouGov, conducted between 27 and 28 April, put the Tories one point ahead of Labour (35% vs 34%), with Ukip on 12% the Liberal Democrats on 9% and the Greens on 4%.