Labour leader Ed Miliband today (29 April) warned voters that millions of family budgets are at risk from a second-term Tory government planning to double the pace of cuts next year.
Speaking in London with Shadow Chancellor Ed Balls and Rachel Reeves, the Shadow Secretary of State for Work and Pensions, Miliband said that the Conservatives will launch a multibillion pound raid on working people's tax credits.
He committed the next Labour government to protecting family budgets by raising tax credits at least in line with inflation every year.
Mr Miliband published new analysis showing how the Tory plans to slash benefit spending by £12bn would mean a raid of £3.8bn on tax credits.
The Labour leader said: "This election is not about any one politician or any one political party. It is about you, the people because elections are when you have the power.
"This is your time, your moment, your chance to get the change your family needs."
He added: "We've heard a lot from David Cameron in the last five weeks. False promises, dangerous unfunded commitments dreamt up overnight with no idea of where the money is coming from and a plan to pay for the NHS with an IOU.
"Today I am here to reveal the truth: if the Tories get back in... your family budget is at risk. Another five years of Tory government will mean a plan to double the pace of cuts next year, a plan that puts your family budget, your NHS and our country's future at risk."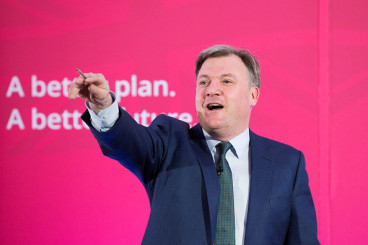 Ed Balls said that tax credits "help to make work pay for millions of families. That's why it's so wrong that the Tories chose to cut them while giving millionaires a tax break.
"Labour will put working families first by raising tax credits at least in line with inflation in every Budget. Together with an £8 minimum wage and 25 hours of free childcare for working parents, Labour's better plan will make work pay.
"Before the last election we warned that the Tories would cut tax credits for families earning £30,000. The Tories said this was a lie, but then did exactly as Labour warned after the election.