Election 2015: Tories narrow favourite for minority government as Sturgeon makes 'UK case'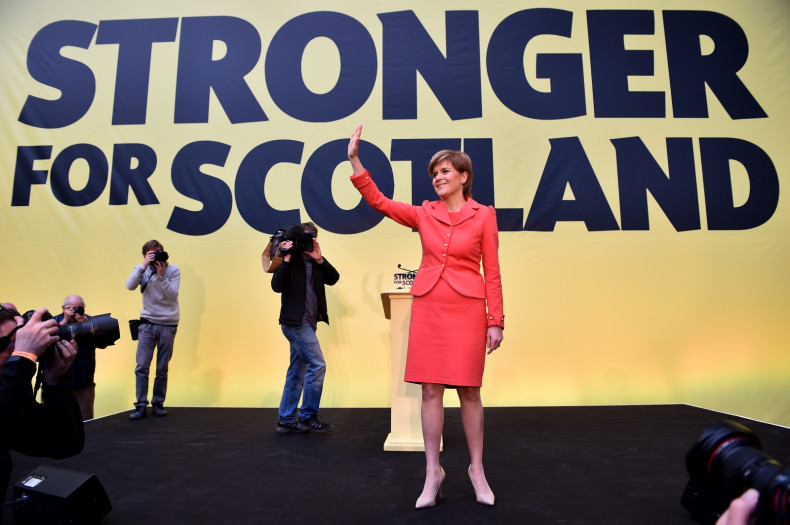 Nicola Sturgeon and Ed Miliband have taken a blow after it was revealed that the British electorate prefer a Tory minority government over a Labour one.
A poll from ICM for The Guardian found that 41% of respondents would like David Cameron in Number 10, propped up by Ukip, the Liberal Democrats and DUP MPs.
In contrast, the survey found that 39% of voters would rather see a Labour minority government helped by the SNP in the event of a hung parliament.
The research came just hours after Sturgeon launched the nationalist's election manifesto, which she argued "could bring benefits to the whole of the UK".
"This is a manifesto bursting with ideas and ambition. It is a manifesto first and foremost for Scotland. But it has real relevance and it can bring real benefits to the whole of the UK as well," Sturgeon said.
"A vote for this SNP manifesto on May 7 will make Scotland's voice heard in Westminster more strongly than it has ever been before. A stronger voice for Scotland will mean a stronger voice for new, better and more progressive politics at Westminster for everyone."
The policy document sets out the SNP's plans to, among other things, increase the minimum wage to £8.70 ($12.97) an hour by 2020 and restore the top band 50p income tax rate for those earning £150,000 and more.
The nationalists also controversially want to scrap the renewal of the UK's nuclear missile defence system, Trident.
The latest national opinion polls have consistently showed that Labour and the Tories are neck-and-neck as we head towards 7 May.
The figures suggest that a hung parliament is a very likely outcome of the election and the likes of the SNP and the Liberal Democrats could hold the balance of power in Westminster.
Miliband has ruled out a coalition deal, like the one seen in 2010 between the Tories and the Liberal Democrats, with the SNP.
But the Labour leader has failed to exclude the idea of a confidence and supply (vote-by-vote) agreement between Sturgeon's party and Labour.
The SNP leader, for her part, has ruled out helping the Tories back into Downing Street but she has promoted the idea of deal between her party and Labour.