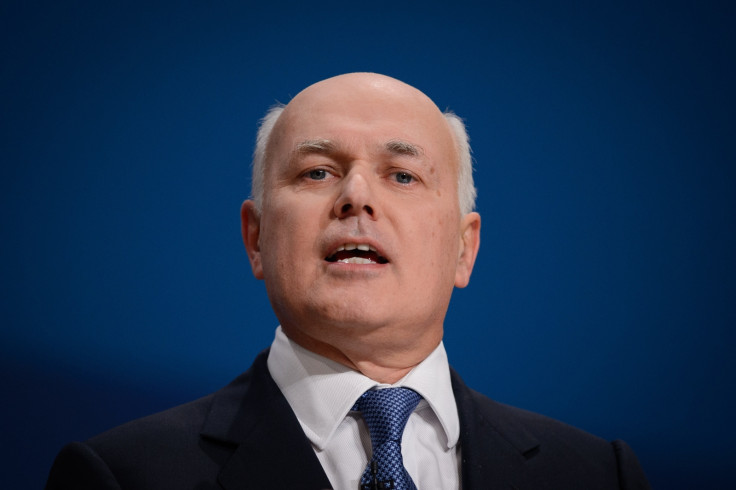 Iain Duncan Smith has launched a last minute blistering attack against Ukip by warning that a vote for Nigel Farage's party is like "writing a suicide note" for hopes of a vote on the UK's membership of the European Union (EU).
The Eurosceptic Work and Pensions Secretary issued the intervention with less than 48 hours before voters go to the polls in the general election.
The former Tory leader argued that a vote for Ukip would allow Labour to gain power and undermine David Cameron's pledge of holding a referendum on the EU in 2017.
"I would simply appeal to them to say, honestly this is a risk that is no longer a protest, but it's like a suicide note," he told The Telegraph.
"The last thing I always say to Ukip people on the doorstep – and it's very simple – is that for 24 years I have campaigned for a referendum on the European Union."
The comments come as the opinion polls point towards a hung parliament (when no party holds a majority of seats in the House of Commons) after the 7 May vote.
The latest survey from YouGov, conducted between 3 and 4 May, put both Labour and the Tories on 33%, with Ukip on 12%, the Liberal Democrats on 10% and the Greens on 5%.
Ukip have seen a slump in their national popularity since last year, when the purple outfit secured the most MEPs in the European parliamentary elections in the UK and saw two Tories – Mark Reckless and Douglas Carswell – jump ship to them.
Carswell, the candidate for Clacton who secured a majority of 12,404 in the seat's 2014 by-election, is expected to hold his constituency. Meanwhile, it is touch and go for Farage (contesting South Thanet), Reckless (contesting Rochester) and Tim Aker (contesting Thurrock).