Election 2016: Rick Perry drops out of US presidential race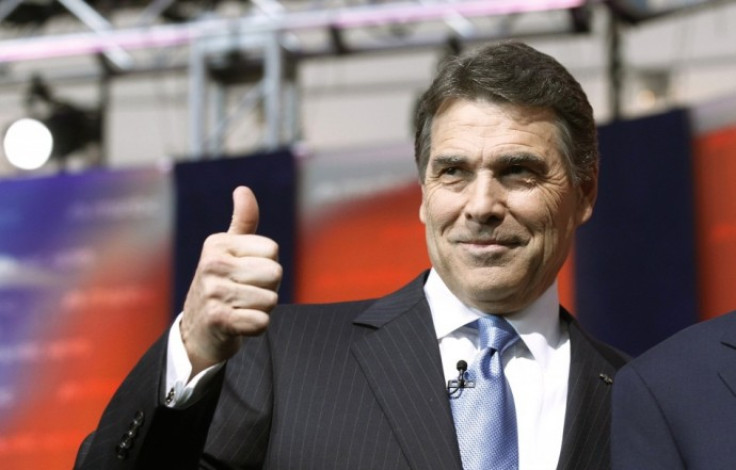 Former Texas Governor Rick Perry has abandoned his presidential bid, dropping out of the race to secure the Republican nomination on Friday (11 September). Speculation over his candidacy mounted in recent days after it was revealed that he had stopped paying his campaign team in South Carolina.
"When I gave my life to Christ, I said, 'Your ways are greater than my ways. Your will superior to mine.' Today I submit that his will remains a mystery, but some things have become clear," Perry told the conservative Eagle Forum conference in St. Louis. "That is why today I am suspending my campaign for the presidency of the United States."
"We have a tremendous field — the best in a generation — so I step aside knowing our party is in good hands, and as long as we listen to the grass roots, the cause of conservatism will be too," he continued. "I share this news with no regrets. It has been a privilege and an honor to travel this country, to speak with the American people about their hopes and dreams, to see a sense of optimism prevalent despite a season of cynical politics."
The cash-strapped former candidate had a difficult time in his second bid for the presidency in the 2016 election. In August, the Washington Post revealed that Perry, 65, had stopped paying all campaign staff throughout the country after fundraising dried up. According to the newspaper, Perry's campaign manager, Jeff Miller told staff on 7 August that they would no longer receive pay and were free to look for other jobs.
"As the campaign moves along, tough decisions have to be made in respect to both monetary and time related resources," Miller said in a statement at the time. "Governor Perry remains committed to competing in the early states and will continue to have a strong presence in Iowa, New Hampshire and South Carolina."
Perry - who abandoned his first presidential bid in 2012 after trailing in the polls - suffered a major setback after he failed to qualify for last month's main Republican presidential debate. He also hit headlines for the wrong reasons in June, when he controversially described the Charleston church massacre, in which white supremacist Dylann Roof murdered nine black worshippers in a racially motivated attack, as an "accident."
Though his campaign team later insisted the word was a slip-up - and he had meant to say "incident" - he went to slam US President Barack Obama for saying that gun control is a problem in America.
© Copyright IBTimes 2023. All rights reserved.