US Elections 2012: Women in Government and Power of the Female Vote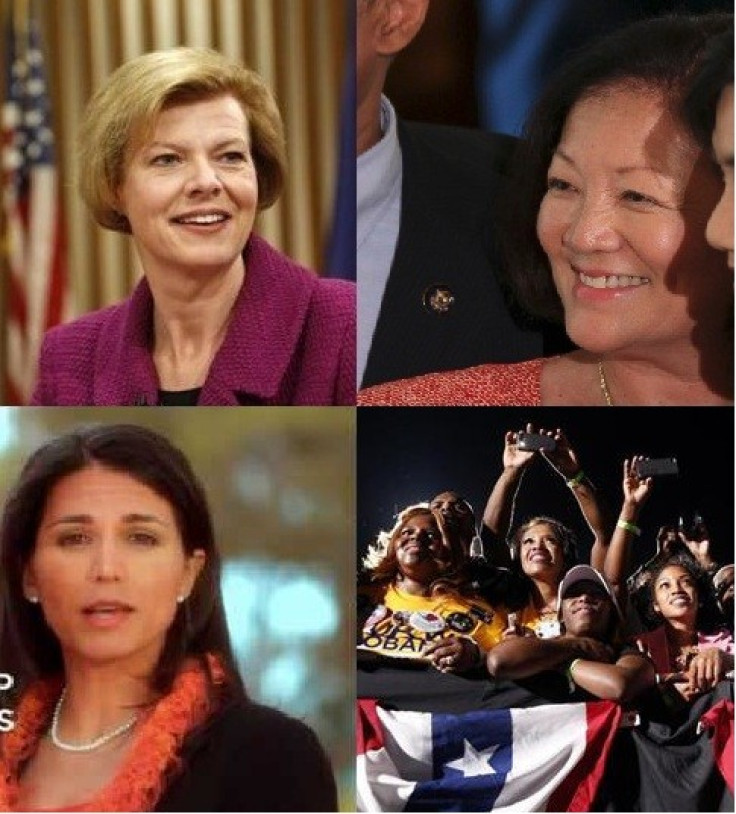 The 2012 US Elections ushered in President Barack Obama for a second term, but crucially it also became a monumental turning point for women in the senate and congress, as well as signifying the power of the female vote.
History was made when the outcome of the US elections revealed that the Senate will include more women than ever before. With twenty women joining the chamber, it would mean 1 in 5 Senators will be a woman.
In addition, at least 81 of the 435 members of the House of Representatives will be female.
But it's not just about the numbers.
Also marking a change in attitudes to diversity, Wisconsin's Tammy Baldwin became the first openly lesbian politician and the first Wisconsin woman to be elected to the US Senate.
Baldwin, who is a seven-term Democratic congresswoman, said she ran "to make a difference and not to make history."
A number of other women have put a stamp in the history books.
Mazie Hirono said she wanted to bring "quadruple diversity to the Senate," and she did just that by becoming the first Asian American woman to be elected to the Senate. She is also the first Senator to have been in Japan and the first to be a Buddhist.
Tulsi Gabbard also became the first Hindu-American to enter the US House of Representatives, by beating K. Crowley of the Republican Party.
Gabbard's mother is Hindu, while her Catholic father is Samoan and she moved to Hawaii when she was two. At the age of 21, she was elected to the Hawaii state legislature.
New Hampshire also became the first state to vote for an all-female congressional delegation and governor. Governor-elect Maggie Hassan and Representatives-elect Carol Shea-Porter and Annie Kuster, all Democrats, made history.
The Power of the Female Vote
In tandem, the power of the female vote was made more apparent than ever during the elections, in which 53 percent of voters were women.
Blamed largely for the crushing defeat of the Republican Party, just 44 per cent of female voters supported Mitt Romney, according to Ipsos data.
The Republican Party campaign was hamstrung by a series of controversial statements about women's reproductive rights, as well as opinions on sensitive subjects such as rape, which went down like a lead balloon with female voters.
Missouri Republican Todd Akin was initially tipped to topple Democratic Senator Claire McCaskill but eventually lost the female vote after saying that women had "biological defences against pregnancy in cases of legitimate rape."
Meanwhile, Illinois Republican Joe Walsh sabotaged himself and lost a House seat to Democrat Tammy Duckworth after saying that abortion was never necessary to save a woman's life.
Indiana Republican Richard Mourdock lost out on a Senate seat after saying that a pregnancy resulting from rape was "something God intended to happen."
It was no surprise then, that a record number of females were elected into office.
With a high turnout of female voters, 67 percent of single women who voted supported Obama, while only 31 percent backed Romney.
© Copyright IBTimes 2023. All rights reserved.