With electric vehicles now firmly on the roadmap for countries around the world the quest to leave range anxiety in the rearview is the next step. All hail, California-based company Proterra and its bus after breaking the world record for longest distance by an electric vehicle on a single charge.
The 40-foot long Catalyst E2 Max bus travelled an unrivalled 1,102 miles without recharging during a test performed in Indiana, US, smashing the previous bus record of 633 miles and marking a major breakthrough for electric vehicles.
The E2 Max is powered by a 660kWh battery, which is over six times more powerful than the Tesla Model S P100D – the fastest accelerating production car ever built. However, passengers won't have to worry about drivers performing drag races from traffic lights as the weight of the bus is enough to slow things down.
In comparison to the Tesla, which claims an industry leading 315 mile range, the staggering long-distance accomplishment of the bus is encouraging for cities looking for an eco electric bus option that won't run out of juice in the middle of a route and have to return to the depot for a recharge.
"For our heavy-duty electric bus to break the previous world record of 1,013.76 miles — which was set by a light-duty passenger EV 46 times lighter than the Catalyst E2 max — is a major feat," said Matt Horton, Proterra's chief commercial officer.
The long-distance mileage will of course greatly differ when it begins driving in real-world conditions away from the track and is full of passengers. Yet the feat is still impressive considering it was a full-sized bus, rather than the smaller experimental vehicle mentioned above that has only one seat.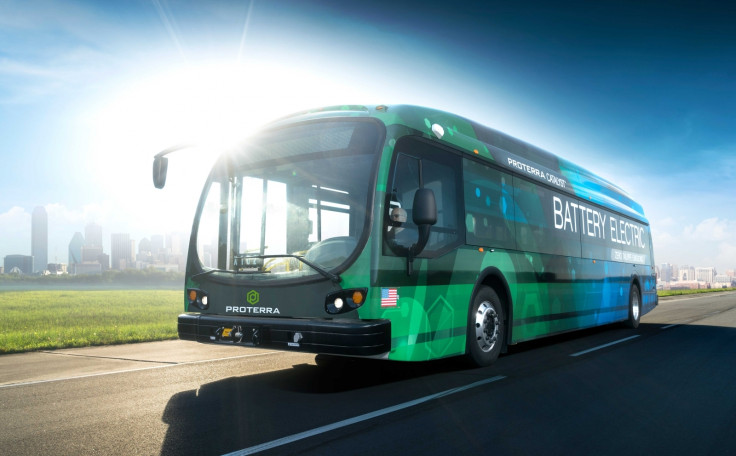 Currently, there are no E2 buses in operation however Proterra expects Los Angeles's streets to see the first of its fleet by late 2017.
The company claims that transit authorities who choose to operate electric buses could save themselves around $50,000 per year in fuel and maintenance costs, which will be good news for buyers as Proterra's standard EV bus (with only a 200 mile range) costs $750,000.
Price for the EV 2 Max has not been revealed, however a larger price tag than that mentioned above is to be expected. Meanwhile, as prices for lithium ion batteries continue to drop Proterra believes that by 2025 the price for one of its buses will be lower than today's diesel buses.
With countries around the world putting into place a ban on sales of petrol and diesel vehicles, including the UK which is to outlaw the sale from 2040, the race to produce viable electric transport options has never been quicker.