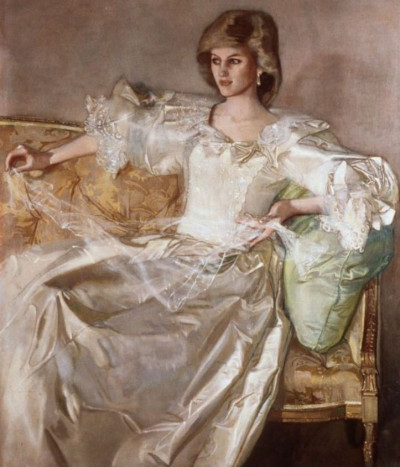 Getting painted on canvas is perhaps one of the most royal-like acts around the world. Though photography techniques have leaped far ahead, the old-world charm of painting has ruled the royalty for centuries.
Britain's royal family also has many of their painted portraits, which date back to an era when photography was not even discovered.
Some of the famous royals of Britain who have been subjects of painters from across the world include Queen Elizabeth II, Queen Victoria, Princess Diana, Prince Charles, Prince Harry and the latest heartthrobs from the royals - Prince William and Catherine Middleton (Kate Middleton), the Duchess of Cambridge.
A portrait of Diana Princess of Wales, by artist John Ward that portrays the Princess in her wedding dress, was completed in 1984 and was hung at Kensington until the death of the Princess in July 1997. The painting still infuses fresh memory of an endearing princess flaunting in her puff ball silk taffeta wedding dress, one of the best wedding dresses ever.
Britain's Queen Elizabeth II has also been depicted in artworks several times. She was etched on canvas by British artist Michael Noakes in 1972 and by artist Susan Ryder in 1997.
Nigerian artist Chinwe Chukwuogo-Roy made another portrait to mark her 2002 Golden Jubliee in 2002. The painting shows the Queen standing at the window of a room in Buckingham Palace, with a composite view of some of the best known sights in the Commonwealth in the background.
More recently, a 2006 painting of Queen Elizabeth II by artist Jemma Phipps was unveiled to celebrate the Queen's 80th birthday.
Another painting called "Three Princes" by the artist Andre Durand in 1994 depicts Prince of Wales and his two sons Harry and William on a horse, portraying their royalty.
Though William and Kate's official painting is not yet done, a Mexican teenager Estibalis Chavez painted their portrait before their wedding on April 29, 2011.
Buckingham Palace has displayed quite a few of these priceless paintings in the past.
We bring here some of the rare paintings of UK's royal family, right from the time when a portrait of Britain's late Elizabeth I was painted in 1588, to the modern time's most recent portrait of Catherine Middleton.
Click on Start to view the painted portraits of the British royal family members.