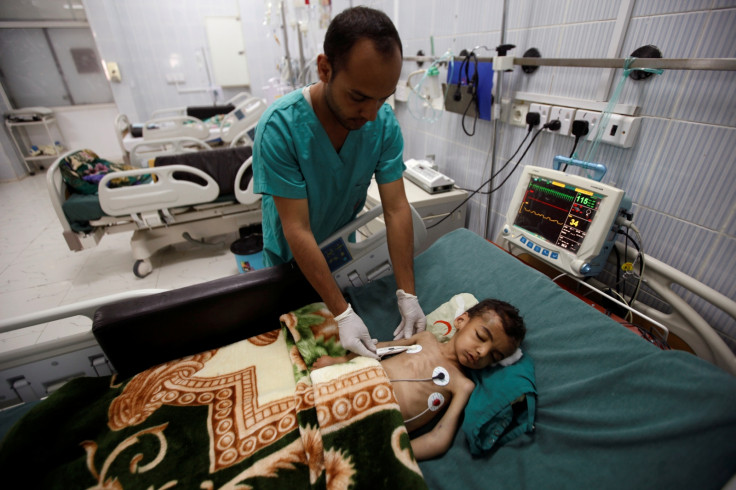 Emaciated children are flooding hospitals of war-torn Yemen as fears continue to rise that the ongoing civil war and sea blockade, which has lasted for months, will induce famine in the Arabian Peninsula's poorest country. The reorganisation of the country's central bank also exacerbates these fears and has left importers worried.
According to the United Nations, close to 50% of the country's 28 million population do not have enough to eat. Food ships are finding it difficult to get into the ports because of a virtual blockade imposed by the Saudi-led coalition backing the government, Reuters reported.
Unicef says around 370,000 children in the country are living with severe malnutrition, which debilitates their immune systems, while 1.5 million people are going hungry.
The effects of food shortages can be seen already in the children's emergency unit at Thawra hospital in port of Hodaida, where parents flood waiting rooms seeking help for their hungry and dying children. Around 10 to 20 children were brought in for treatment in April whereas now the hospital is struggling with 120 patients a month.
Meanwhile, the last month order by Yemen's exiled President Abd Rabbu Mansour Hadi to move the country's central bank headquarters from the capital Sana'a to the southern port of Aden has left traders worried.
Trade sources, who import food to Yemen, told Reuters that this decision would financially expose the country. Diplomats and aid authorities have also said that the crisis surrounding the central bank could adversely affect ordinary citizens of the country.
Richard Stanforth, Oxfam's humanitarian policy adviser said: "The politicisation of the central bank and attempts by the parties in the conflict to use it as a tool to hurt one another ... threaten to push the poorest over the edge. Everything is stacked against the people on the brink of starvation in Yemen."