A US aircraft carrier the Navy claimed was headed towards the Korean Peninsula amid rising tensions in the region, was, in fact, still thousands of miles away, a US official has acknowledged.
The USS Carl Vinson supercarrier and its naval strike group were said to be heading towards North Korea on 8 April after the country conducted a series of missile tests.
The move was billed as a demonstration of US President Donald Trump's willingness to be tough with Pyongyang, however, after the vessels were pictured in the Sunda Strait in the Indian Ocean off ­Indonesia on Saturday (16 April), a defense official has confirmed to AP that the ships have yet to start their trip.
"They are going to start heading north towards the Sea of Japan within next 24 hours," the official said on condition of anonymity.
The official confirmed that instead of immediately making the journey, the USS Carl Vinson carried out drills with the Australian Navy as originally planned.
Given that the Sunda Strait and the Sea of Japan are over 5,600km apart, the ships will not be where it was said they would be earlier than the beginning of next week.
The strike group, which includes the aircraft carrier, its 60-plus aircraft, the guided-missile destroyers USS Wayne E. Meyer and USS Michael Murphy and the guided-missile cruiser USS Lake Champlain are now expected to arrive off the Korean peninsula by the end of April, several US defense officials told the CNN.
The mix-up comes after Trump announced he was sending "an armada", a "very powerful" one.
The Republican has been criticised for shooting himself in the foot over the miscommunication.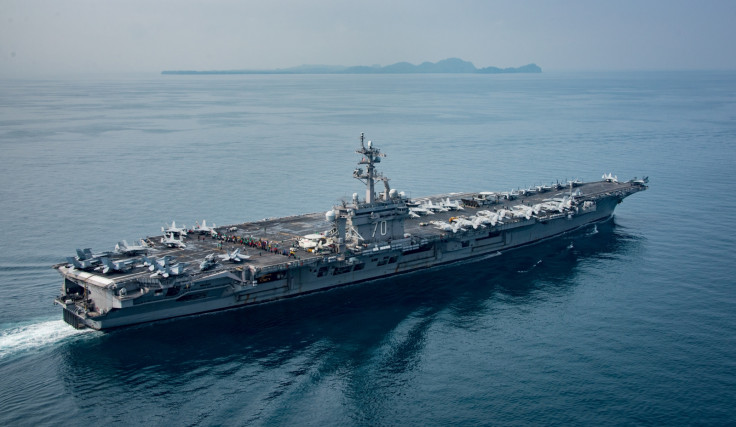 Joel Wit, a co-founder of the 38 North programme of the US-Korea Institute at Johns Hopkins University, said to AP: "If you are going to threaten the North Koreans, you better make sure your threat is credible.
"If you threaten them and your threat is not credible, it's only going to undermine whatever your policy toward them is."