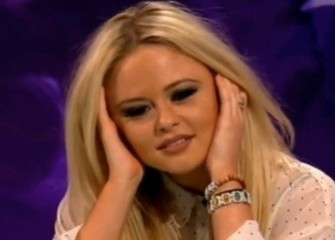 A young actress from the hit channel 4 comedy Inbetweeners was targeted by a Twitter troll in a vile attack, which sparked a police investigation.
Emily Atack summoned police after being sent a flurry of abusive tweets on the popular social network, which threatened the pretty 22-year-old with death.
But she turned the tables, harnessed the power of the platform, retweeting the abuse to her followers, and then urging her army of fans to help her out by contacting Bedfordshire police.
The Luton-born actress acted after receiving a Tweet which read: "Emily its time 4 y to leave this world, ur last hours wnt be pleasant, it will achieve the objective." (sic)
Another tweet continued in the same threatening vein. 'u sound happy!? Im glad!!! Visit ur family now...tell him goodbye! It'll be yr last chance to do so."
But feisty Atack, who also appeared on the ITV show Dancing on Ice, took to the site to tell her abuser: 'prison for you.'
That failed to stop the vitriol though. The web troll responded: "do u think publicity makes you safe? Fraid not! I can see you whenever I like! I wont even be b a suspect. c u soon.'
Bedfordshire Police confirmed an investigation was underway into the incident. A spokeswoman said: 'I can confirm that we received a complaint reporting malicious communications and our investigations are ongoing.'