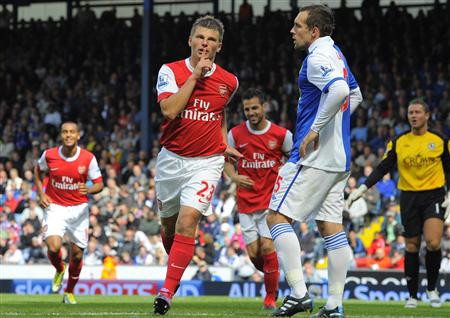 Arsenal forward Andrei Arshavin has seemingly endorsed George Graham's recent criticism of the Russian international, by delivering a withering assessment of his performances since joining the club in January 2009.
Last month former Arsenal boss George Graham lambasted the Russian international as "a poor buy" by questioning the 30-year-old's appetite and desire when playing for the North London Premier League club.
The Scot pulled no punches in his assessment of the forward after the player's lacklustre performance against Marseille a fortnight ago.
"Arshavin's been a poor buy, his enthusiasm doesn't seem to be there." Graham told the Daily Star last month. "Against them (Marseille), and in the past, he's looked like he doesn't want to be there. When he pulls that shirt on he's not been good enough."
Graham's stark criticism provoked a passionate defence from Arsene Wenger, who responded to the Scot's barb by lauding Arshavin as a "great player" with a great attitude.
"You would not be surprised that I disagree with that (George Graham's comments). That is his opinion. I think he has been great for us and he will still be great in the coming months." Wenger replied last month.
"He is a great player and you have to give him credit for that. He stands up for his performances. I personally respect him highly and I think he's a great player. I like Andrey because he has a great attitude."
Despite the verbal jousting between Graham and Wenger, the eccentric playmaker has offered an admirably frank analysis of his time at the Emirates.
"Speaking honestly, I think my performances for Arsenal have been average," he told the Daily Telegraph.
"I've done some good things, but I don't assess my game on goals or assists. I look at the whole picture."
Prior to Arshavin's arrival during the 2009 winter transfer window, the mercurial forward had been one of the most coveted players on the continent following a stunning individual showing at the 2008 European Championships. His considerable talents had reportedly attracted the attentions of Barcelona and Real Madrid amongst many others, but when Arsenal successfully secured a club record £15 million deal, it had been hoped he would usher in a new era of success for the Gunners.
Sadly the enigmatic star has shown only fleeting glimpses of his undoubted brilliance and has since found himself vying for a place with the likes of Gervinho, Theo Walcott and Aaron Ramsey. The player, who is a popular character with Arsenal fans, concedes he has not made the impact he initially anticipated.
"Normally when I'm on the pitch, I take control of the game but I haven't really done that here. I'm an extra tool in the team rather than the main one, so it's been difficult." He concluded.