Emma Stone and Andrew Garfield were 'very animated and excited' to reunite at AFI Awards event
Garfield and Stone co-starred in two Amazing Spider-Man movies.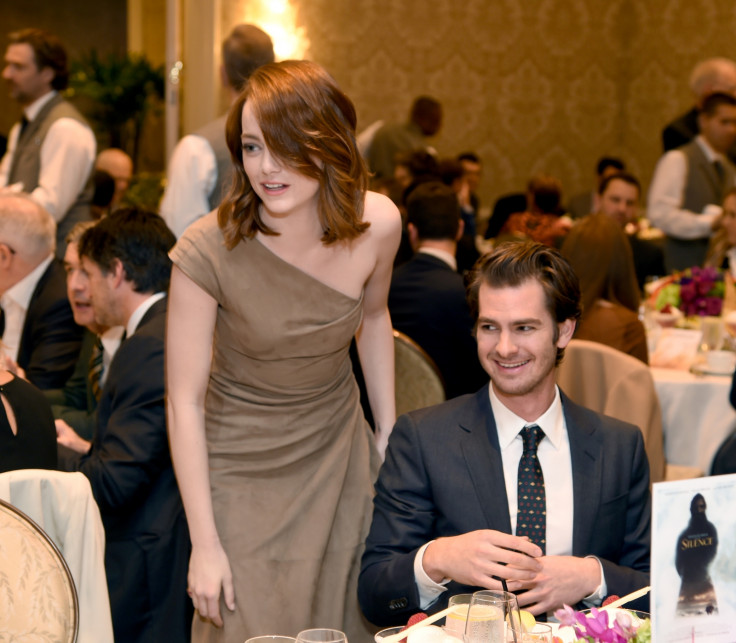 Emma Stone and Andrew Garfield are no bitter exes. The Amazing Spider-Man co-stars reunited at the 17th annual AFI Awards luncheon in Beverly Hills on Friday (6 January) and they were happy in each other's company.
According to a report in Us Weekly, the couple – who split in October 2015 – were excited to see each other. When Stone approached Garfield who was seated at a table, the actor stayed in his seat as she leaned to chat with him.
He introduced her to those seated beside him and she acknowledged everyone's presence with a handshake. After the programme ended, the Social Network actor stopped by Stone's table to say goodbye before heading out. The actor also showed a bracelet he was wearing to Stone, who seemed to like it.
The 28-year-old actress is a frontrunner for awards this year, thanks to her latest film La La Land. She and Ryan Gosling are stars of the hit musical, which has been chosen as one of AFI's 10 Movies of the Year for 2016. Two of Garfield's latest films – Mel Gibson's Hacksaw Ridge and Martin Scorsese's Silence – are also on the list.
In an interview with W magazine, Garfield recently revealed that one of his fondest birthday memories involved the former couple and their friends "getting stoned at Disneyland". He told the Magazine, "They came out to L.A. to surprise me. We went to Disneyland. We ate pot brownies. It was literally heaven. How about Space Mountain three times in a row?" he recalled. "I freaked out on It's a Small World. I was like, 'It is a f*****g small world.'"
The actor continued, "There was a moment when me and eight of my closest friends found ourselves — we didn't even realise anyone else was doing it. We were walking through Fantasyland and there was a song that was playing, coming out of the trees, and we were all doing this, dancing through," he explained as he imitated the moves. "I think at one point we all started looking around going, 'We're all doing the same dance. How did this happen?'"
The couple dated for four years after meeting on the sets of The Amazing Spider-Man in 2012.
© Copyright IBTimes 2023. All rights reserved.