British actor Emma Thompson today (2 September) unveiled a giant puppet polar bear outside the London headquarters of Ango-Dutch oil giant Shell as part of a campaign by environmental group Greenpeace to protest the company's drilling in the Arctic.
Sixty-five activists and puppeteers manoeuvred the double-decker-sized object to stand outside the company's HQ on London's South Bank. Greenpeace plans for the three-tonne polar bear, named Aurora, to remain fixed there until Shell's Arctic drilling window ends later this month. Six protesters have also locked themselves inside the bear to stop it from being removed.
The demonstration is part of an act of mass defiance against a Shell legal injunction that bans Greenpeace UK staff and activists from crossing a line drawn around the company's London headquarters.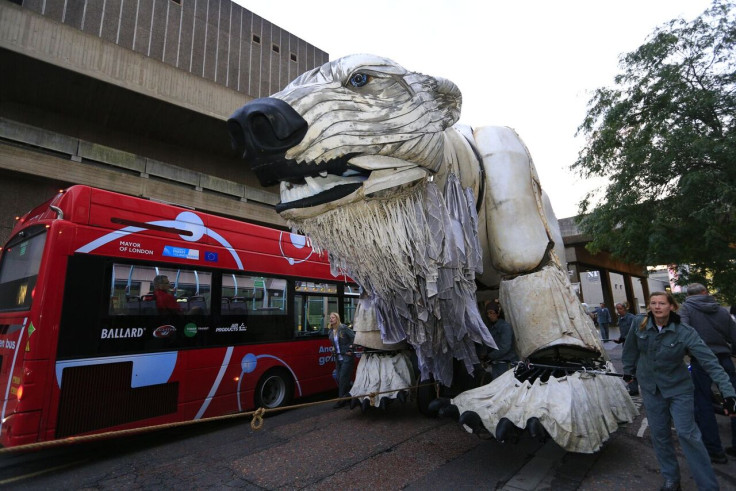 Upon the unveiling of the giant polar bear Thompson performed a self-penned poem, before stating she plans to break the legal injunction by attempting to stick a giant paw print on to the building at 2pm. "Shell has drawn a line around its headquarters and its lawyers say we're banned from crossing it. Well, Shell crossed a line when it moved its rig into the Arctic, so I'm going to step over its line.
"And when I do I'll be carrying the names of thousands of people who stand for Arctic protection. We're drawing our own line, a line in the ice, and we're telling Shell to pull back its rig," she said.
The company has already poured some $7bn (£4.5bn) into drilling in the Arctic over the past eight years. Experts believe the Arctic region contains 13% of the world's undiscovered oil reserves – about 90 billion barrels.
Patrick Earls, a Greenpeace activist at the protest, said: "We're a determined bunch and spirits are high. It makes sense to me that this giant polar bear has come to London, because Arctic drilling affects all of us, not just the people who live in the Arctic.
It's outrageous that a company headquartered in the UK is getting away with doing something this bad for the planet. I feel like because it's a UK company, we've got a big responsibility here to stop them."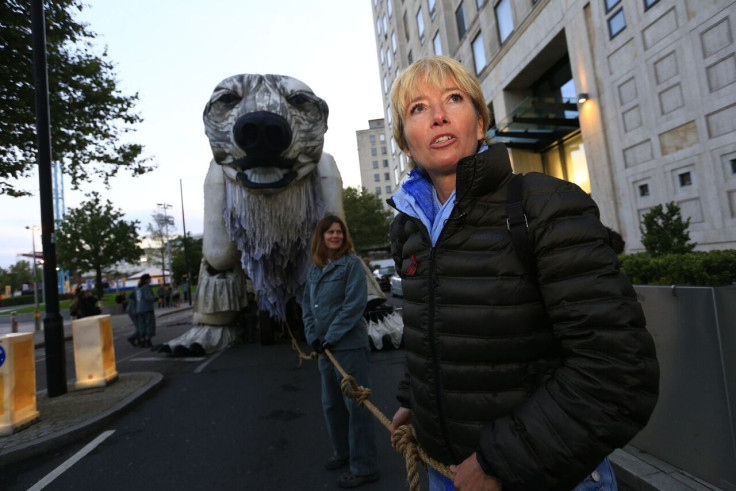 A spokersperson for Shell stated: "Shell respects the right of people to protest against the activities we undertake to ensure the world's energy needs are met. However, it is disappointing that Greenpeace continually chooses to focus on mounting publicity stunts rather than engage constructively in the debate about how to meet the world's growing demand for energy while reducing CO2 emissions.
"We believe we can play an important role in developing the Arctic's energy resources. We choose to explore there because we have the expertise and experience to operate responsibly and be profitable at the same time.
"Many Arctic peoples and governments agree with that judgment. They support the opportunity to explore for oil and gas in their territories and those governments have awarded Shell the licences to conduct those operations.
"The reality is that hydrocarbons will remain a major part of the world's energy system for many years, not least because they provide the path to prosperity for many millions of people in the developing world, enabling them to enjoy living standards that the western world takes for granted.
"Shell is actively engaged in developing solutions to the global energy challenge. We are pioneering carbon capture and storage technology, calling for a robust global price on carbon, and producing more gas, the least CO2-intense hydrocarbon. We are working with many constructive NGOs and other organisations on these and other issues, in order both to raise the level of public understanding of the energy challenge and to ensure that the world moves towards a lower-carbon, higher energy future."
The stunt follows a similar headline-grabbing protest the organisation orchestrated in which activists dropped a massive rubber banana peel on the roof of Royal Dutch Shell's Technology centre in Amsterdam.