Emmanuel Macron is set to be inaugurated as France's eighth and youngest-ever president as the Elysée Palace in Paris is gearing up for the swearing-in ceremony. Macron will formally take over from outgoing socialist leader François Hollande on Sunday, 14 May.
The 39-year-old former investment banker, a pro-European centrist politician, secured a comfortable win against his far-right rival, Marine Le Pen, in the presidential run-off on 7 May. A relatively newcomer to politics, Macron rode to victory just a year after launching his movement. He faces a daunting task of reinvigorating the economy and bringing fresh air into the troubled European Union.
Hundreds of security personnel have been deployed across the French capital to prevent any untoward incident during the presidential inauguration. Traffic is being regulated and most parts of the city centre will remain closed as part of security measures.
After he ascends the red carpet, Macron will hold a private meeting with Hollande which could roughly last about half an hour. During the meeting, the incoming leader will be given the nuclear launch codes. A 21-gun salute will ring out after the official handover of power and an inspection of the Republican Guard.
"I am not handing over power to a political opponent, it's far simpler," said Hollande, who once picked Macron to make him an economic adviser and then later a minister. However, Macron did annoy his former mentor by launching his own political movement while still being a minister.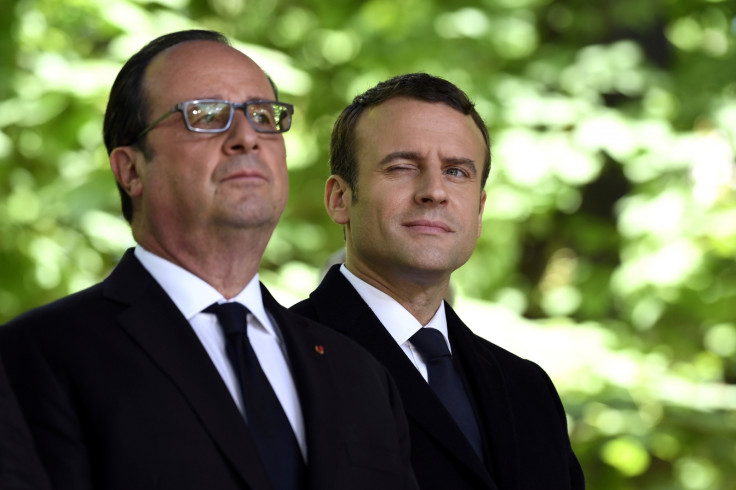 Macron has kept everyone guessing on who will be the prime minister. The name is expected to be announced on Monday, 15 May after which Macron will travel to meet German Chancellor Angela Merkel in keeping with a tradition of newly elected French leaders meeting their counterpart in Berlin, the other EU powerhouse.
Macron hopes to have a strong presence in the French parliament during the 11-18 June elections in order to push through his economic and social reforms.