A Scientology advert aired between primetime ITV soaps Emmerdale and Coronation has been criticised by television viewers.
One viewer set up a petition calling for adverts by the religion, whose followers include Hollywood A-listers Tom Cruise, John Travolta and Will Smith, to be taken off television.
The 29-second broadcast starts smiling adherents surrounded by landscapes, technology and Scientology symbols.
It is the same ad that was played during the Seattle Seahawks-Denver Broncos Super Bowl XLVIII game.
It ends with the line "Imagine everything you have ever imagined is possible" but viewer Summer Regan said the advert's messages were "potentially harmful".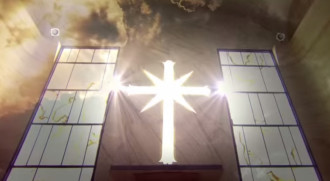 Her petition, which has attracted 113 signatories, says: "I was shocked when I saw an advert for Scientology on ITV; not only does it describe scientology as 'science and religion connecting' with no scientific evidence supporting the affirmations of Scientology, but it claims 'everything you've ever imagined is possible' as if it is fact, surely this is false advertising?
"It would be comical if it's implications weren't so potentially harmful. I hope most intelligent people that watch this advert will dismiss it as ludicrous, but I don't think faith-based adverts should be aired at all, using advertising techniques utilised by marketing aimed at consumers to essentially persuade the audience, which includes young and impressionable minds."
Director of Mediawatch UK, Vivienne Pattison, told the Daily Mail that there was little that could be done to stop the advert.
"There aren't actually any rules saying you can or can't advertise religion, which is how they have managed to get away with it," she said.
In February, the Supreme Court ruled that Scientology was a religion after it allowed Louisa Hodkin and Alessandro Calcioli to marry at the Church of Scientology in London.